Looking for Affordability? Used Flash Freezers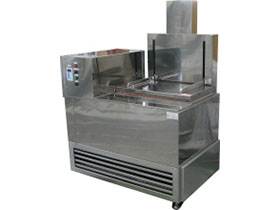 About Flash Freezers
For those wanting to obtain a flash freezer or flash freeze storage, you may possibly be considering a used machine. When it comes to normal freezers used in business, the amounts are massively distributed. It is often in the market by used good pawn shops. However, flash freezers and flash freeze storage are not openly sold in the market as used products, and are difficult to find and purchase used.  Even if a flash freezer is offered used,majority of it will end up being the Blast Chiller/Shock Freezer or Prefabricated refrigerators. The types mentioned above have slower freezing speed compared to the liquid freezers and Air blaster. In reality, flash freezers are rarely sold in the market.
Please don't purchase a used freezer
Since it rarely appears in the market, it is best to disregard the option of investing in used flash freezers. If a liquid freezer or Air blaster was to be sold as a used product, it is highly recommended to not purchase the machine. The reason why it is discouraged to purchase a used machine is because in most cases, the warranty has already expired. Many of the flash freezers are constructed and empowered with the maker's original technology and therefore, during the case of malfunction, it is difficult to fix the machine, without suffering high expenses. Also, there is the possibility of not being able to receive proper help from workers. With such reasons, it is discouraged to purchase a used product. Benefit of purchasing a new product
Direct purchase from the corporations means access to informative advice's for a semi-permanent period of time.
The ingredients that will be frozen, appropriate temperature and method of freezing will vary with each customer. The customers who are interested in flash freezers also face many issues that the currently owned freezers cannot resolve. In order to solve the current issues faced by the customers,the support during purchase and thereafter from the maker brand is essential. If ingredients are to be preserved with flash freezers to maintain the same quality and taste, then it can be sold for much higher price than the existing merchandise. While it may be over the budget, it is highly recommended to any individual who desires to keep the original flavor and quality of the ingredient to purchase a new flash freezer. The following pages introduces information written.