Guide to Purchasing a Blast Freezer – Step by Step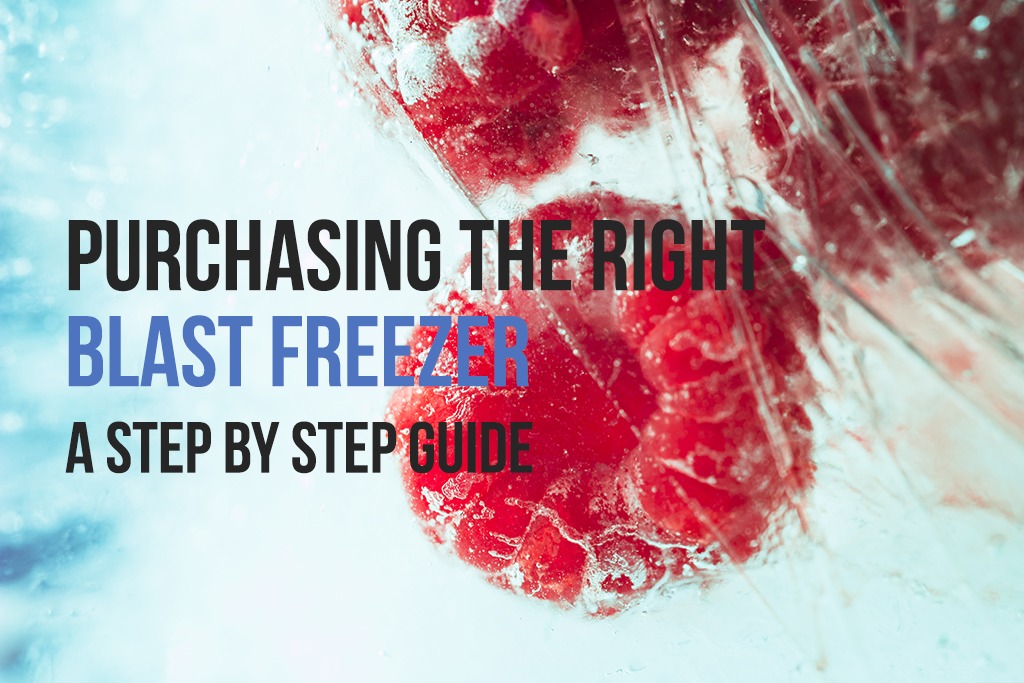 The process of purchasing a blast freezer can be quite a daunting task, especially when you consider that there are so many points and factors that need to be taken into consideration. With a wide variety of brands and techniques and technologies available online, it can sometimes be quite a confusing ordeal, figuring out what technology would work best for you.
This is why, we have created a step by step guide for you to consider when it purchasing a blast freezer or blast chilling equipment.
For a quick overview on what blast chilling is, please feel free to read our article on How Flash Freezing Works
Prior to Purchasing :
Before you decide to purchase a blast freezer, it is important to consider a wide range of conditions. Some of these conditions may be exclusive to your business or to your case, or perhaps you have a product that requires specialized freezing techniques. If you have questions such as these or anything else, please do not hesitate to talk to us via the Contact Page for a personalized one on one talk with one of our blast freezer specialists.
Without further ado, let us take a look at some of the important factors to consider when purchasing a Blast Freezer or Freezing Equipment. Please keep in mind this is not an exhaustive list and each persons needs are unique which is why we recommend you reach out to us with your questions.
Guide to Purchasing a Blast Freezer : Step by Step –

How many kilograms or liters can it handle?
The first and foremost point to consider is how much of your product you want to process per hour. Depending upon this, you can choose between machines that can operate all day long or machines that have a operational window after which, it has to be turned off, defrosted and cleaned before resuming operation. Depending upon your needs, this can greatly affect the kind of blast freezer you purchase.
Is it energy efficient?
A very important factor that must always be considered prior to purchasing a blast freezer is its energy efficiency. Blast freezers that do not have high energy efficiency ratings will have extremely high running costs and will make it harder for you to make back your investment. So please make sure you invest in a blast freezer that has a fairly high energy efficiency rating!
Does it specialize in meats or fish or vegetables and other goods?
When it comes to specialized freezing, it is often important to consider whether the blast freezer you are looking to purchase needs to have technology that is specially designed to handle certain products. Different products have various thicknesses, densities, moisture content, fat and more. As such, it is important to remember to choose a blast freezer that specializes in your product of choice.
How hygienic is it?
This one is a no brainer. Hygiene and sanitation are of tremendous importance when it comes to freezing product. Blast Freezers without high sanitation and hygiene ratings can often cause cross contamination between various products as well as freeze products unevenly. 
Does it have required certification?
Certification in Blast Freezers plays a really big deal when it comes to where a product can be shipped to as well as the kinds of shipping methods that are allowed, duties, fees and additional taxes. This is why it is important to find out if the product you are looking to purchase has proper certification.
How many hours can it run before it needs to be turned off for cleaning?
Depending upon how much product you want to freeze in a day, it is important to consider the production time and continuous freezing time. Depending upon your needs, you might choose a blast freezer that freezes fast but requires regular defrost cycles. Or you might instead want a blast freezer that can run continuously for a long time with minimal defrost cycles so that it can be connected to say, an assembly line.
What refrigerant does it use?
The type of refrigerant used by the blast freezer can affect not only its efficiency, but also have a significant impact on the environment. It is important to choose a refrigerant that minimizes the carbon foot print and the release of harmful gases into the atmosphere.
Is installation handled by the manufacturer?
You might also want to consider the fact that blast freezers can be quite a lengthy process to setup and assemble. As such, it would be more beneficial for your business if the blast freezer manufacturer you choose provides on site installation.
Does it make back the investment?
Perhaps the most important question on this list. It is very important to consider this as a major factor when it comes to purchasing a blast freezer. The blast freezer that you purchase should be able to make back the investment in a reliable amount of time so that you can focus on expanding your operations and business, rather than making back investment costs.
Does it minimize drip loss?
"Drip Loss is the process by which products lose internal moisture and weight upon defrosting." This is extremely important to consider when choosing a blast freezer for your business. Blast Freezers that can freeze very efficiently result in products with very little drip loss upon defrosting. This can play a very big role in profits as drip loss can affect the weight of the product and make it lose weight due to loss of moisture.
Is there a support team available?
As with any machine, working with a blast freezer is no different; there is a learning curve involved and you will find yourself occasionally struggling to figure out something. In these cases, it is incredibly helpful to have a team that is on standby willing to help you out through the trouble shooting process. It is always advisable to choose a blast freezer manufacturer who has a support team available.
Are the parts easily replaceable?
Last but not the least, it is important to consider upkeep and wear and tear for the blast freezer. Ask yourself if the parts that are being used in your blast freezer are easily replaceable in the case of an emergency. Do the manufacturers provide easy shipping for replacements? This aspect is very important to remember as it can greatly affect the expenses you face in the future for your blast freezer as well as save you a lot of headaches.
We hope you found our Guide to purchasing a Blast Freezer useful. If you have any more questions or would like to speak to a specialist who can help you further, please do not hesitate to contact us!