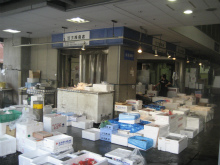 Mihara Roofing and Sliding CO., LTD
Every company that is involved in the food industry needs to store their inventory. Of course finding the right freezer to store their inventory is a very important investment for your company. Finding the right Flash Freezer can make the difference between delivering a damage free product to your customers or sending a damaged product that will make your customers unsatisfied?
For Mihara Roofing and Sliding CO., LTD, they needed a Flash Freezer that could assure that the products that they were freezing were frozen properly and not damaged in the freezing process. That is why they came to us, Freezer specialist, to present to them a Flash Freezer that would meet their needs.
Below is a quick explanation of what type of Flash Freezer Mihara Roofing and Sliding Co., LTD chose to invest in and incorporate into their company.
Chart:
| | |
| --- | --- |
| Delivered Model | Re・Joice Freezer RF-10D (Air cooler integrated freezer) |
|  Model Specs  | 10kg/hr |
| Delivered from | Osaka |
| Products | ・Fishes, |
After testing all of our Flash Freezers we had in our showroom in the center of Tokyo, Mihara representatives saw the speed that our Rejoice was able to freeze their seafood and various products. They were able to see for themselves just how much our Rejoice Flash Freezer could help them increase production while maintaining product quality during the freezing stage. After testing their products, the representatives decided to go with our Rejoice Flash Freezer, and we are happy to say that they have complete satisfaction with our product.
If you are interested in reading about our Flash Freezer line up access the page links below. If you want to contact us regarding the purchase and what our Flash Freezers can do for your business, please do not hesitate to send us an inquiry via the blue mail toggle today! We would be more than happy to answer any questions that you may have.