A New Line of Blast Freezers!
Note : Due to circumstances with the pandemic, we no longer ship Artlock Freezer outside of Japan.
A Blast Freezer Made for Professionals
Before we get into our featured article on one of our most popular air based Flash Freezing Technology Blast Freezers , first let's look at the most frequent questions clients asks us about our Artlock Freezer.
1. "What makes our Artlock Freezer different from the rest?"
2. "How does it affect the overall quality of the product after being frozen?"
3. "Does it absorb moisture like other freezers"?
4. "What products can be frozen in an Artlock Freezer?"
5. "Will this blast Freezer reduce our total utility cost?"
If you have any other questions regarding Artlock freezers, please do not hesitate to contact us via the Blue Mail Toggle that's on the right side of the screen.
The Difference is in The Technology: Artlock Freezer Technology
First in our list, and the question that we get asked the most is what exactly is an Artlock freezer?
Our range of Artlock freezers are high end commercial freezers that use a special freezing technology. 
Instant Flash freezing means that the products frozen will not be damaged and maintain their original state when they are thawed. For more, let's answer some of the most asked question we receive from our clients.
How Does it Affect the Overall Quality of the Product after Being Frozen?
Unlike conventional blast freezers in the market, our Artlock freezers exhibit the following benefits.


With our technology, instant freezing has never been so easy. It is not only easy to use, but with the flash freezing system in place, all the food is completely frozen while maintaining the original freshness,  flavor, texture, and moisture. 
The Artlock freezer ensures that food bypasses the ice crystallization  threshold of -1 C to -5 C incredibly fast so as to cause minimum damage to its internal cellular structure.

Decreasing Moisture and Texture Loss
A business in the food industry has to make sure that the products that they sell to their customers are fresh and made with high quality ingredients.
In order to maintain the quality and freshness of the produce, business owners need a freezer that does not cause erosion, drip loss, freezer burn.
This is where our special Artlock Freezer comes into play. 
Freezing Cooked Products [360° Cooling]
With our Artlock freezer, freezing cooked products is a breeze. With it's 360 air ventilation system in place, cooked products can go from cooked to frozen in a matter of minutes. And with flash freezing technology, crystallization starts almost immediately to preserve the moisture of the products being frozen. Even with food with high temperatures reaching over 90C can be quickly frozen to -20C or lower with no freezer slow down. This is a feature that is not found in other conventional freezers in the market. An Artlock freezer exclusive.
A Personalized Experience
Our freezers are one of a kind as every unit is hand crafted and accommodate that too. Our Artlock freezer can be made into a blast chiller and chill products to only -5C.
With our Artlock Freezer, you decide which temperature you want your frozen products to be in. 
Examples of Frozen Products
Here are some of the extensive testing we have done with our Artlock freezer in our Shinagawa Showroom. Here are the results listed below.
Sweets, Pastry, and Breaded items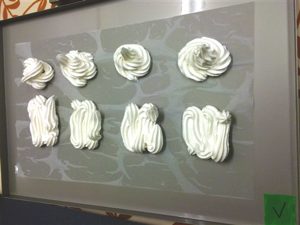 Unlike other commercial freezers, Artlock freezers are able to preserve original flavor and texture via the advanced flash freezing technology that rapidly freezes the contents, but is able to maintain all the original freshness of the product that was frozen; and make sure that it is ready to be use after freezing. Deep freezing, or Flash freezing is one reason why the Artlock freezer is capable of increasing preservation time to increase the time the product can be used. Cooked or baked products will also maintain original flavor and texture for much longer with Artlock freezers.
Freezing cream and other delicate products is also possible as the cold fronts are circulated in a way that does not blow away or ruin cream like products. 
Fresh Fish & Raw Meat

In most cases, even using other blast freezers in the market, Sashimi and other raw meats lose some of their inner taste components when they are frozen in a conventional freezer. With the Artlock freezer, you can now be assured that you will be able to freeze any type of raw fish or meat and still maintain the texture and the flavor after being frozen. This is done by using the 360 degree cycling crystallization of the cellular wall of the product, freezing it from all sides at the same time allowing the contents that are being frozen to evenly freeze, increase freezing speeds, and decrease loss of quality (drip loss).  The Artlock Freezer is able to freeze all sides fast enough to freeze the content's cells; maintaining flavor while not over-freezing it and destroying the texture.
Cooked Dishes
The Artlock blast freezers are relatively faster than other blast freezers, but they are also more versatile than most other freezers in the market.
In our tests, we have used traditional Japanese cooked items like katsu (Fried chicken cutlet) to see how the texture would be affected. As many of you professionals may already know, for fried breaded products, it's hard to freeze them if you want to maintain the crispy texture.
When using conventional freezers, the texture is usually damaged because most blast freezers over freeze the product and therefore over crystallize the cells, making the ice crystals in the cell wall too large, damaging the contents that are being frozen.  When the cell wall gets destroyed, the product becomes "soft " and losses the crisp it once had.
With the Artlock freezer, business professions do not have to worry about damaging the cell wall because of the  controlled ice crystallization while still maintaining rapid freezing process, you can freeze cooked products, even fried products, and still maintain the texture and flavor well after it has been frozen.
What Products Can be Frozen With the Artlock Freezer?
We made a list that shows what ingredients or food freezes the best using Artlock freezers. This is not an exhausted list, but rather a list of products that we have tested and had the best results in keeping original texture, flavor and moisture after freezing.
・Bean cake
・Mochi
・Strawberry daifuku
・Pudding
・Custard Cream
・Mitarashi Dango
・Daifuku
・Toasted Soy Flour Mochi
・Cherry Blossom Mochi
・Cream Puff
・Milk
・Sea Urchin
・Salmon Roe
・Basashi
・Liver
・Korean Yukke
・Gyusashi
・Fried Tofu
・Osechi
・Mabo Tofu
・Cooked Eggs
・Baked Eggs
・Rice Ball
・Pressed Sushi
・Sushi Rice
・Sandwich
・Hand made Sushi
・Futomaki
・Hand-rolled Sushi
・French Bread
・Bread with Sweet Bean paste
・Fish Cake
・Lotus Root/Rencon
・Udon
・Fish cake stick
・Namul
・Soba
・Blue Berry
Will a Artlock Freezer Reduce Total Utility Cost?
This is an important question that is asked by almost all of our clients.
The simple answer to this question is, Yes.
Relative to conventional commercial freezers in the market, our Artlock freezers use less energy to freeze food and ingredients. This is done by freezing the ingredient without circulating outside air in the freezer. This helps maintain the product quality as well as improving productivity. If you want to know the exact specifications of the Artlock freezer, please do not hesitate to contact us.
Curious about our Artlock freezer line?  We would be more than happy to go over the specifications of the overall cost and data between our  freezer and other freezers,  via consultation. During consultation, we can go over costs, pricing, specifications, and give you a chance to test out the Artlock freezer first hand. There are various Artlock freezer models available, from compact models to batch and cart in styles. Please click below to find out more about each model type. 
Main Features: 
–

360°

Freezing.
– Frozen contents will

maintain

original texture and flavor.
–

No ice

buildup.
– Capable of continuous

24 hour freezing

.
– Freezer models are order made and customizable.
– Low Cost,

Fast

and

Effective

Freezing
Additional Features:
– 360° freezing secures content's

entire surface

will be frozen at a faster and more efficient way.
– Frozen contents will maintain most of their

original freshness

.
– No ice build up in the vents for 100% freezing at all times(No slow downs)
– Continuous Freezing.
– Order Made and fully customizable. 
We are confident that you will be satisfied with the Artlock freezer and it's capabilities. For more information on how to set up an appointment, send us an inquiry via the blue mail toggle and if you contact us from 10:00am to 6:00pm, Tokyo, Japan time you can live chat with us as well.  Please feel free to get in touch with us. We would be more than happy to consult with you on how to move forward and expand your business using the Artlock freezer line.