Pastry Freezers: Freezing Test 101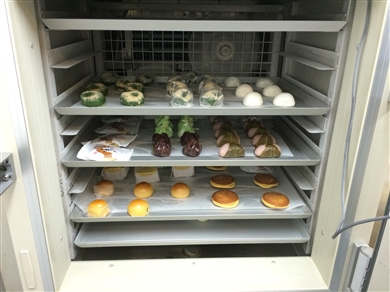 Looking for the best Pastry Freezers
In today's Pastry market, finding the right pastry freezer is not an easy thing to do. Most of the time settling for a blast chiller is the next best thing that a lot of pastry professionals have to settle with due to the fact that any other choices like blast freezers, damage their products texture and taste. Blast chillers are great for short term storage, but if you want to store a certain product for a long period time, then that is when a problem arises.
The problem is that the product deteriorates or is unable to be kept in storage for a long time before it goes bad. We wanted to help those professionals finally be able to find a pastry freezer to freeze their products without worrying about the products being damaged and maintaining product texture and flavor. We wanted to show to you, professionals in the food industry, what are freezers are capable of. Therefore, we conducted 3 separate test on Japanese pastry that is known to be difficult to freeze, and below are the results of the tests conducted.
Outline of The Tests Conducted
Japanese Sakura Mochi Yomogi Mochi Manjuu
Test Freezing Sakura Mochi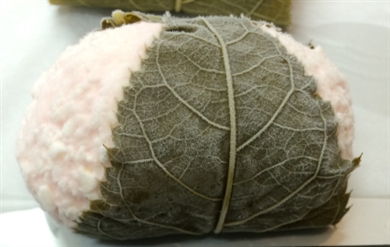 A Sakura Mochi (桜餅) is a special Japanese pastry/sweet that is made out of sweeten, pink colored rice cake. Usually inside the Sakura mocha there is sweet anko paste in the center, wrapped in cherry blossom leaf. There are various types of Sakura Mochi all over Japan. Today's leaf was brought in from the Oshima Sakura.
| Calories | 238 |
| --- | --- |
| Content's Water Percentage | 40.5g |
| Protein | 4.5g |
| Carbohydrate | 54.2g |
| Fat | 0.4g |
| Dietary Fiber | 2.6g |
| Sodium | 0.1g |
| Calcium | 12mg |
| Potassium | 38mg |
| Iron | 1.0mg |
Due to the limit of Sakura season being short, availability of Sakura Mochi is scarce after June. In order to keep Sakura Mochi available for a longer period of time, using some sort of pastry freezer is the only option. But most pastry freezers usually damage the very soft texture and Anko paste flavor. Now with our two Air based and liquid based Flash Freezers, we wanted to see how both freezers would freeze Sakura mochi and compare the outcome to a regular pastry freezers. 
outcome of the test
Both in our Air Based and liquid flash freezers had the same outcome with no difference in Sakura mochi's flavor when frozen. On the other hand, when regular pastry freezers or regular freezers were used, texture was lost, lossing some of the mochi's soft texture.
Pastry Freezing Yomogo (Kusa) Mochi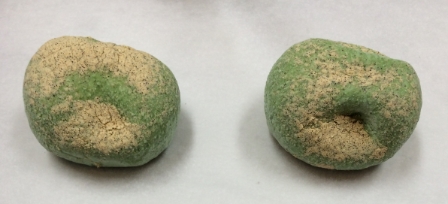 Similar to the Sakura Mochi, the Yomogi Mochi is a seasonal Japanese sweet that is eaten during the national peach festivals.
The Yomogo Mochi is a simple dish, made out of rice cake (mochi) and Hersey cudweed. And like the Sakura Mochi, Yomogi Mochi has a very soft texture. Finding a good pastry freezer to freeze Yomogo Mochi is very important because, if the freezer is unable to properly freeze it using the right pastry freezer, the texture can be ruined. Below is the Nutrient Table.
Nutrient Information
Approximately 3~4 oz (100g)
| Calories | 229 |
| --- | --- |
| Carbohydrates | 52.1g |
| Content's Water Percentage | 43.0g |
| Protein | 4.2g |
| Fat | 0.4g |
| Ember content | 0.3g |
| Phosphorus | 25mg |
| Potassium | 23.5mg |
| Sodium | 8.5mg |
Fun Fact : The Yomogi Mochi is rich in Potassium and Sodium; said to prevent high blood pressure.
Pastry Freezer Test Result
Just like our previous test, we not only used regular pastry freezers but also our own flash pastry freezers to see what would be the difference. In this test we added Kinako Powder to see how it would affect the outer layer of the Yomogi Mochi we were freezing.
If you use regular freezers as pastry freezers, the end result for yomogi, or similar pastries, is the powder loses some of the taste while the overall texture changes as well. In the end, taste of the powder and the Yomogi Mochi was the biggest difference between regular frozen mochi and unfrozen Yomogi Mochi.
In contract to regular pastry freezers, our special flash freezers were able to freeze the product without changing the flavor nor was texture of the product even after it frozen. Now last on our pastry freezers tests, we try and freeze Japanese Manjuu next!
Freezing Manjuu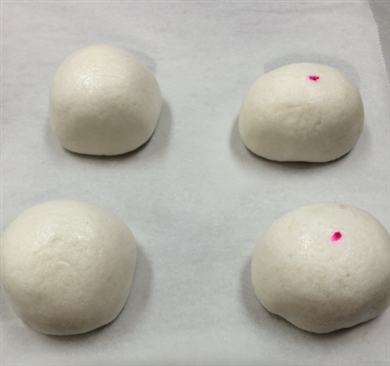 Manjuu is a Japanese favorite sweet eaten all year round. Manjuu actually originated in China under the name "mantou." Below is a nutrient chart of a basic manjuu.
| Calories | 272 |
| --- | --- |
| Carbohydrate | 5.29g |
| Content's Water Percentage | 32.0g |
| Protein | 5.29g |
| Fat | 0.7g |
| Potassium | 78.74mg |
| Phosphorus | 68.93mg |
| Sodium | 43.62mg |
| Calcium | 29.28mg |
| Magnesium | 12.35mg |
Results of freezing manjuu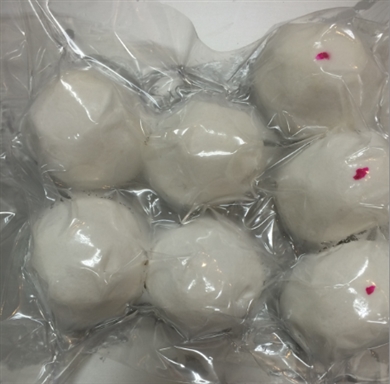 Like the two previously tested Japanese sweets, The manjuu's were frozen in both regular pastry freezer and our flash freezer. The overall results are as follows. When freezing the manjuu in a regular pastry freezer the manjuu's overall texture was not altered, but the taste was changed( deteriorated ). On the other hand, compared to the regular pastry freezer we tested on, our flash freezer was able to completely freeze all of the manjuu and its content and still maintain all the taste and texture.
Pastry Freezing Overview
The reason we conduct various freezing tests is to see how products are affected after being frozen by different kinds of freezers. We want to help all business professions have the ability to freeze their important inventory and products that they want to increase sales or expand their reach via freezing and exporting to various parts of the world.
In all of our 3 tests that were conducted both on the regular pastry freezers and our flash freezers were very revealing. Our Flash Freezers excel at preserving texture and flavor of all 3 tests conducted on the Japanese sweets that were test frozen. If you are interested in testing out our flash freezer line up or have other tests that you want to see us conduct, contact us VIA the BLUE MAIL TOGGLE today! We will be more than happy to help you move your business forward. 
The Artlock Freezer as well as the dedicated Flash Freeze Exclusive Satin Line is perfect for setting up your own pastry freezing solution. Whether it be for freezing pastry ingredients or even setting up prepared pastries for storage, our Flash Freezers can help you get there.
Feel free to peruse our Satin Line here :