Revolutionize Frozen Baked Food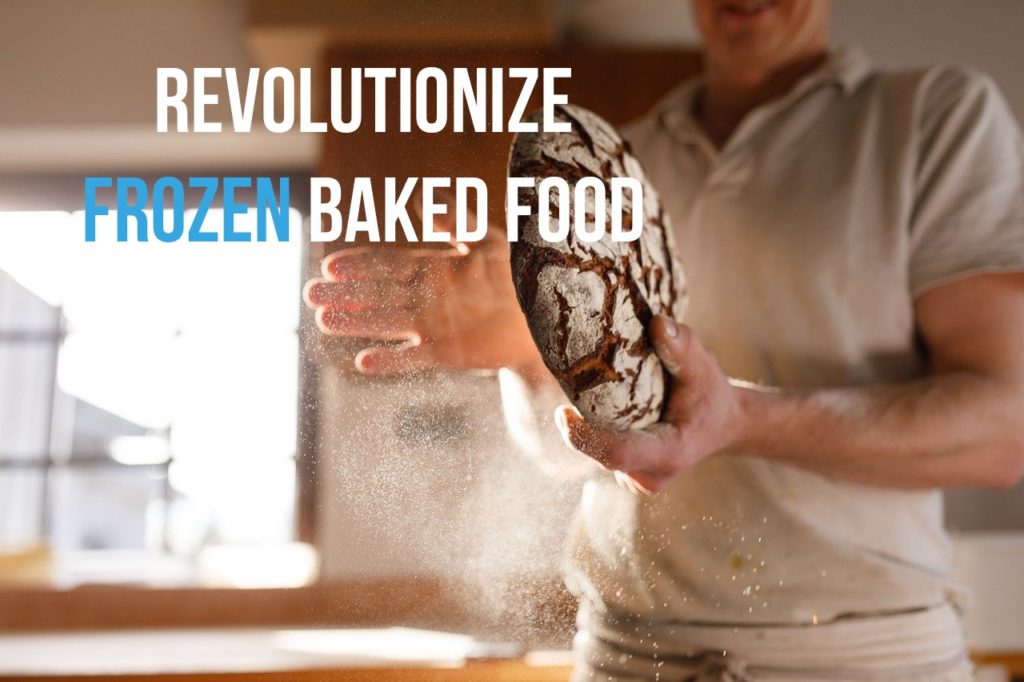 We have all had that one loaf of bread, fresh out of the bakery, that made us hope it never loses its softness, delicious smell and texture. But sadly, there are quite a few things, that easily ruin the perfect baked bread, such as dehydration. On the other hand, if it's too hydrated, the bread becomes moldy fast.
How about the process of making our own bread? There are a couple of stages until you reach the crunchy, yet soft bakery like bread. All stages are quite important and have to be kept under frequent observation. Making dough can be quite a tough task, but if it's done well it is quite rewarding.
The first few stages always depend on the baker: measuring ingredients, mixing, kneading. After that it mostly relies on the environment, humidity and temperature in the bakery. This is a crucial part of the process. Several things could go wrong, especially if the working environment doesn't allow you to pay proper attention to the bread or its rising process. That's where our Blast Freeze Cabinets/ Freezer Bakery comes in. They are specially designed to help regulate internal temperatures and reduce the chances of mistakes to a minimum.
But the main focus is freezing baked bread. Usually keeping your bread in the fridge results in a noticeable change of texture. Bread loses its moisture, turning into a hard and dry bread look-a-like, with a dull taste.
We worked hard to find a way to keep the bakery freshness with our Blast Freezer Bakery Line. These machines also double as Cabinets, which is an evolving technology.
Blast Freezer Baking Line
The properties of Blast Freezer Lines are already well known, but the Blast Freezer Cabinet is a special addition to the lines. The Cabinet 's main function is not only freezing, but also assisting in the process of making bread.
There are 5 essential phases:
Yeast block, storage, awakening, proving and maintenance.
The Blast Freezer Cabinet is modern and intuitive. For easy access it is equipped with comprehensive touch controls, which are sensitive and effortless to use.
For Bakery goods the most important issue is humidity. Our Blast Freezer Cabinets have the highest accuracy and reliability in the temperature and humidity control of baked products. The Cabinets are designed with an intelligent sensor, which is capable of regulating humidity and air flow to ensure your products maintain perfect state. The consistent air flow circulation is achieved by the presence of conveyors. Furthermore, the Blast Freezer is equipped with 20 pairs of "L" shaped slides.
Problems with Freezing Bread
When it comes to freezing bread, there are a wide range of challenges that need to be addressed .
For example, if the air circulation inside the Blast Freezer Cabinet is too strong, it can lead to cracks appearing in the dough. Similarly, if the air flow is inconsistent, it can lead to unevenness in the maturation of the dough.
Another common problem is when bread loses its humidity. The result usually is hard or chewy bread. On the other hand, if the moisture content in the cabinet is too high the bread develops soggy texture and soon after mold too.
Storing and Freezing Bread
If we wish to achieve the highest quality bread or pastry, there needs to be complete control in terms of how the temperature inside the cabinet is regulated.  Another key point to consider is the level of humidity inside the cabinet. Too much humidity and the bread turns soggy; too little and the flour dries up. An uneven rate of air flow on the other hand can also cause discrepancies in how the product is maintained within the cabinet.
Given these problems, it is imperative that the cabinet in question is capable of handling these issues with minimal stress upon the product. Our Baking Line specializes in exactly that. With features such as humidity control, steam generation, conveyors, temperature control and much more, our Baking Line Cabinets are designed to solve all these issues and give you the control and flexibility you need to create the perfect bread.
If you are looking for blast freezers or products other than bread cabinets, please feel free to look into our Blast Freezer Line Up for more information.
If you are interested in knowing how Blast Freezers can help your business,  feel free to check out our Blast Freezer Business Article.
In Conclusion
In terms of business, there are long term investments and short term investments. Purchasing a blast freezer or a cabinet is undoubtedly an investment, but is it the right one?
The answer to that question would depend on your requirements as well the amount of freedom one would want in their production process. If you would like to have the ability to masterfully control, regulate and control the quality of your baked products to perfection, then look no further than the Blast Freezer Baking Line.
At Flash Freeze, our specialists would be happy to offer you any support or assistance you may need to find the perfect blast freezer or cabinet for your business and its needs. 
If you would like a one on one consultation with one of our specialists , please do not hesitate to reach out to us through the contact page. We will be more than happy to help you reach new heights and achieve your ambitions.