Comparison of Liquid Nitrogen Freeze and Alcohol Brine Freeze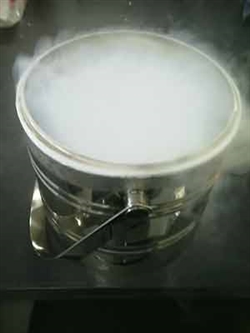 Liquid Nitrogen Freezers
Purchasing a Liquid Nitrogen Freezer is a big financial decision. You can't just go and purchase one. There are multiple steps to take before you can even request it. But before you start your search, first you have to look at what you need for your business and see all the options that are available to you. After you look at what you need for your business and what a liquid nitrogen provides, you have to ask yourself, is a liquid nitrogen right for you? No worries, because we asked ourselves the same question and have come up with an answer.
First, let's look at what a liquid nitrogen freezer is. In its basic form, a liquid nitrogen freezer is:
Liquid Nitrogen freezers use Liquefied Carbon Dioxide at -196℃ to freeze food or ingredients. The cellular structure isn't completely destroyed, preventing complete lost of moisture. However, if the liquid nitrogen contacts the cellular formation, the content will be damaged and become unusable.
The fact of the matter is using a liquid nitrogen freezer is one way to freeze contents in a rapid pace. But there is a chance that whatever you end up freezing might be damaged in the process. That means there might be a loss in ingredients, stocks, and more importantly, sales revenue. Now, you need a liquid based freezer, but not sure what you want? Why not try the new revolutionary alcohol brine based freezer?
Liquid Based Freezers VS Liquid Nitrogen Freezers
As a professional business man, you need to look at all the possible options when making an investment into your business. With technology rapidly advancing, there are now other safer methods to rapidly freeze your inventory (food, ingredients, etc) outside of using a liquid nitrogen freezer. Today we are going to compare the speed, size, and overall performance of both a liquid nitrogen freezer and our Re-Joice freezer
|   | Liquid Nitrogen | Liquid based | OVERVIEW |
| --- | --- | --- | --- |
| Freezing Time | Yes | Yes | The contents are quickly frozen. |
| Space | Small | Large | Tends to be larger on the our Rejoice Liquid Flash Freezer. |
| Cost | Cost Difference Depending on Size | Starting Cost are high, but customization is possible |  Cost may differ depending on size, but overall we found via our tests that the Rejoice Liquid based flash freezer and liquid nitrogen freezer both have different costs depending on sizes. |
| Utility Cost | 40yen/kg | 3yen/kg | Utility Cost is Higher for the Liquid nitrogen freezer. |
| Ease of Use | Following directions is recommended | Following directions is recommended | Liquid Nitrogen Freezer and Our Rejoice Liquid Flash Freezer, both have to be Handled with Care. |
As you can see, in terms of speed, a liquid nitrogen freezer and an alcohol brine based liquid freezer have the same freezing speed times, but with an alcohol base liquid freezer you get a relatively bigger freezer, due to the use of brine and alcoholic base with advance freezing technology, crystallization in the molecular level has never been so advanced before. Due to the spread of crystal bubbles, the overall structure ( softness, moisture, etc.). And unlike liquid nitrogen freezers, it is safe to touch for a short period of time and will not destroy your inventory.
Conclusion: What's right for you?
At the end of the day, one has to move forward and keep in mind what they need for their company to help them succeed. When looking at Liquid nitrogen freezers, please keep in mind that they are not the only liquid based freezers in the market and when it comes to freezing delicate ingredients or other types of foods, texture damage is likely and taste may change from it's original, unfrozen state. We would be more than happy to show you the difference between a liquid nitrogen freezer and our own flash freezing technology via freezing tests in our Tokyo office. Contact us today via the BLUE MAIL TOGGLE and see what our flash freezer can do for you!