Flash Freeze Technology & Kokane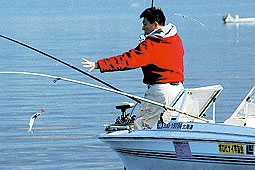 Picture source:http://www.tomamin.co.jp/
Branding Kokane Fish: Shikotuko Fisherman's Cooperative-Year Round Shipping and Sauce Development.(Hokaido News: March 7, 2015)
http://www.hokkaido-np.co.jp/news/sapporo/596733.html
Bigger Distribution range for Special Products
Here we will be introducing the town of Chitose and how the flash freezer enabled the city to broaden market range.
The Kokane fish found in Shikotsu Lake of Chitose City Hokaido is attempting to specialize the product as a regional brand.
Out of those attempts, the Shikotsuko fisherman cooperative is seriously attempting the branding of Kokane fish. Up until now, the delivery of Kokane was restricted to summer (Kokane Harvest Period) due to the preservation time limit. To increase market and sales, it was necessary to be able to sell the product during seasons other than summer. In order to do so, the flash freezer was able to freeze and preserve the Kokane for a long period of time, while leaving the same taste.
By converting the distribution of Kokane year round, popularity rose, and products are safely delivered.
To be more descriptive, the plan is to obtain a flash freezer (freezer storage for corporate use and vacuum packaging machine). By purchasing multiple flash freezers, preserving 10,000 kokanes is the plan. If this plan succeeds, then the delicious flavor of Kokane can be delivered year round. Also, the parent fishes that were originally thrown to waste can be used to research new fish sauces. The year round distribution of Kokane without changing quality or altering the genetic system will lead to the growth in market range. By increasing the sales of Kokane fish, the brand name will succeed to stand on its own and the popularity of Shikotsu Lake will rise. By implementing the use of flash freezers, the delivery period can be marked outside of the development and seasonal time frame. For those who are desiring to distribute fresh ingredients nationally year round like the Shikotsu Lake can think about investing in a flash freezer? In this website, we recommend freezing fisheries and seafoods such as the Kokane fish witht the Re・Joice Freezer
For more information, Benefits of Liquid based Freezer page contains detailed explanation
If you want us to talk about other stories regarding our clients and how our products helped them, or you want to know how our Flash Freezers can help your company, please contact us TODAY via the BLUE MAIL TOGGLE! It's fast and easy.