A Flash Freeze Test: Freezing Fruit!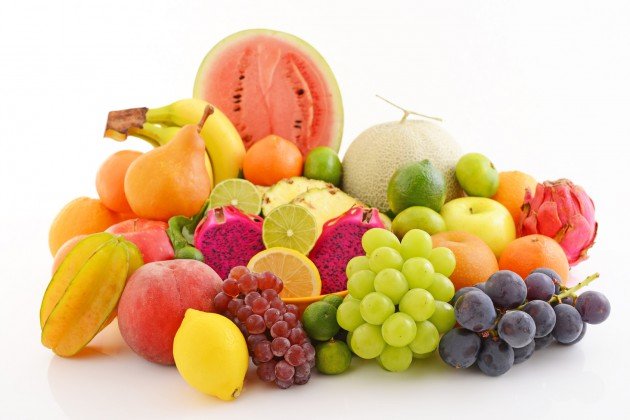 Flash Freezing Fruit
In this article we will be freezing fruits with flash freezers to see if the fruits are able to maintain the same quality before they were frozen. We tested a variety of fruits, all of which are listed below. Kiwis Peaches Apples Strawberries If you have any particular questions or want us to do other "testing" articles, please contact us via the BLUE MAIL TOGGLE and we would be more than happy to test and post our findings here on flash-freeze.net! For our first freezing fruits test, we will be looking at kiwis and what happens when they go through the flash freeze process.
Flash Freeze: Kiwi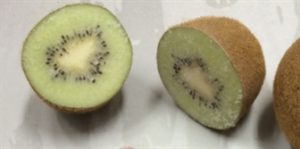 It is not easy to successfully flash freeze kiwis, as many of you business professionals already know, freezing fruit is a difficult process. There are various ways to freeze fruit, but all of them involve multiple steps. With our flash freeze technology, freezing fruit has become safer and easier! The method of finding good kiwis (and other freezing fruits) is to look for one without scratches and marks, with light hair growing evenly along the whole surface. It is best to select a light brown colored one with elasticity.
It can be said that the most common way of eating a kiwi Is by cutting it in half and scooping the fruit out from the skin. However, the correct way of consuming the whole content with the skin. So, freezing a kiwi, like other freezing fruits, freezing it with the skin on is better. Here is a quick look at the nutritional overview of a regular kiwi.
| Calories | 61 |
| --- | --- |
| Content's Water Percentage | 83.07g |
| Carbohydrates | 14.66g |
| Protein | 1.14g |
| Fat | 0.52g |
| Vitamin C | 92.7mg |
| Vitamin E | 1.46mg |
| Potassium | 312mg |
| Calcium | 34mg |
| Phosphorus | 34mg |
Freezing Fruit: Kiwi test results
We compared the test freeze results of air based, liquid based and slow fruit freezers. Here are the results of our tests we conducted with our flash freeze technology VS a normal commercial freezer. First we set the normal freezer and its temperature setting on default on our flash freezers and waited to see what would happen. This resulted in the test and the freezing fruit (kiwi)'s texture and moisture lost. We thought that kiwi was an un-freezable fruit and it can only be chilled and kept for a short period of time.
After freezing fruits in different temperatures and used our Flash Freezer, we found out that by changing the temperature, it is possible to freeze the kiwi in a way that it wouldn't damage the texture and moisture. As a result, with liquid based freezers, we then found out that by freezing fruits (kiwi) can be frozen at -13℃ in order to keep moisture and texture (freshness) loss to a minimum. Next, we checked the flavor, and found out that with the normal method of freezing, the sweetness of the kiwi decreased (flavor changed *), and the sourness became stronger. We thought that by flash freezing, the sweetness will remain in the fruit, and compared to normal freezing methods, our flash freezers were able to maintain most of the sweetness, but not all of it.
The results of test freezing kiwi are as follows
By changing the cooling temperature, with our flash freeze technology freezing fruit (kiwi) was overall successful, with most of the texture and moisture maintained, but some of the sweetness lost to some degree. Next, on our freezing fruit tests, we took some peaches and tried to freeze them and see the differences between our flash freezers and regular freezers.
freezing fruit: Peaches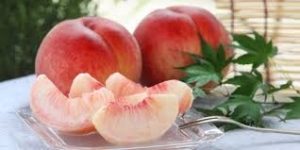 Picture Source: www.cosmo.ne.jp
Peach is one of the most popular fruits in Japan and a personal favorite of mines. Peach is a summer fruit, with top harvest season being from mid-July to September. Peaches, as you all are aware, are distributed to many countries around the world. So we wanted to add peaches to our freezing fruit test and see what would happen. Freezing fruit is difficult, but with out flash freezers that wasn't the case for the peaches that we test froze.
Fun fact: Right before the fruit is formed between the end of March and beginning of April, the flowers bloom and are sang in songs and poems as "Peach Flower". This is a very popular seasonal vocabulary/term. As the matter of fact, the leaves grow later than the flower, and the dried materials are placed in baths as "Peach Grass Bath" which can be used as medicine to reduce the inflammation of skin. Nutrient Information:
A peach that satisfies the above requirement is guaranteed to taste delicious.
The thicker the color of the peach, the stronger the sweetness.
Nutrient Information
| Calories | 40 |
| --- | --- |
| Content's Water Percentage | 88.9g |
| Carbohydrates | 10.2g |
| Protein | 0.6g |
| Fat | 0.1g |
| Vitamin C | 8mg |
| Potassium | 180mg |
| Phosphorus | 18mg |
| Magnesium | 7mg |
Freezing Peaches
Picture Source: blog.kingarthurflour.com/
Before we start freezing fruits, we first researched various ways people freeze them. In the case of peaches, there was a lot of useful information that we were able to use for our test. In our tests we used our *ReJoice liquid based flash freezer. Our freezing fruit method didn't change for the most part, we packaged the strawberries, then recorded the results.
First, we froze the content for an hour at -30℃. The results were that some of the un-packaged peaches suffered scrapes and cuts. The packaged half had no problems. We assumed there was an issue with the freezing temperature, and froze un-packaged goods at -28℃ instead, at which there were no damages on the fruits as a result of the change.
Conclusion: Peaches may be difficult to freeze at -30℃, but could be well frozen at -28℃.With. After freezing fruits at various stages, next we changed the method of defrosting and studied natural (normal) defrosting and refrigeration defrosting.
Natural defrosting
After test freezing the fruits (peaches) We left the fruit in normal room temperature and naturally defrosted for a 3 hour period. When we observed the peaches defrosted, there were no changes in the taste, and the taste and texture was the same as a freshly picked peach. On the other hand, the texture had decreased, and changes in color had also appeared in certain parts. Color wise it has changed.
Defrosting Through Refrigeration
While we defrosted some peaches in normal room temperature, we also defrosted some of the peaches in a refrigerator for 24 hours. After freezing fruits and defrosting them, the texture and overall look of the peaches stayed the relatively the same. The color also did not change. Here is the results: Overall, flash freezing fruits like peaches shows that taste and texture stays in tack throughout he whole freezing process, with small changes in the overall color and moisture. 
Apples and Flash Freezers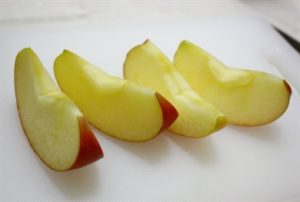 Picture Source:www.topics.blog.suntory.co.jp/
Fun Facts: Apple is said to have originated in Southern Kazakhstan, while in Japan, the Aomori prefecture is the central location for the apple market. Nutritional information:
| Calorie | 54 |
| --- | --- |
| Content's Water Percentag | 84.9g |
| Carbohydrate | 14.6g |
| Dietary Fiber | 1.5g |
| Protein | 0.2g |
| Ember content | 0.2g |
| Fat | 0.1g |
| Potassium | 110mg |
| Phosphorus | 10mg |
Apple Freeze Test
This time, we used the liquid based freezer and tested the content under 4 different conditions.
The Freezing Apple Test
In our next freezing fruit test, we took various states of the apples we were going to freeze. Cut up (with skin) Cut up (without skin) Whole (with skin) Whole (without skin) When freezing fruit with the skin, the color changes when the apple is defrosted. The apples that were frozen in our flash freezers on the other hand were frozen in a faster rate and the color of these apples were unchanged from the original, fresh apples.
Conclusion:The skin color changes and is frozen better after being cut up.
Freezing Strawberries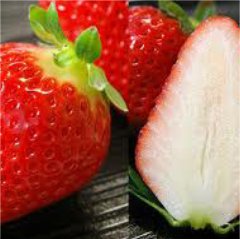 In most areas around the world, strawberries are harvested during the months of March and April. However, with different types of reformation, strawberries are now available year round.
Unlike other freezing fruits in our tests, strawberries are one of the most consumed fruit in the world.
Fun Fact: Among all the fruits, strawberries are ranked in the top sources of Vitamin C. The amount of vitamin C is double that of an orange, and the necessary average amount of Vitamin C for a adult male (100mg) can be fulfilled with 7 or 8 large strawberries.
Strawberries cannot be kept for a very long time, and is recommended to consume as soon as possible. As we continued test freezing fruits, we were actually looking forward to seeing how strawberries would change after being frozen. 
Strawberry Test Freeze Comparison
We conducted various strawberry freezing tests with both Rejoice, liquid based freezer, and  air based, Artlock freezer. In this instance, We directly inserted strawberries in our flash (air based) freezer.
As for the liquid based, we packaged the content first before freezing. Upon freezing fruits like strawberries, we discovered that it is difficult to freeze them. When freezing fruits, then defrosting, there is an excessive moisture lost, and the area surrounding the content will get soaked. But, with a little preparation and special defrosting, preservation is possible. However, from what we experimented with freezing strawberries is an extremely difficult task.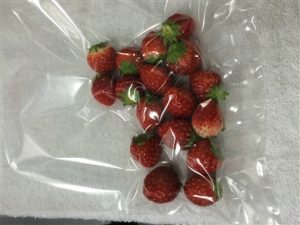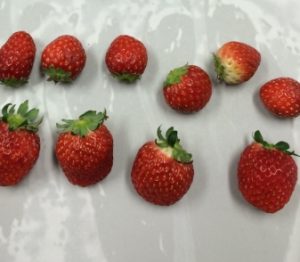 When freezing strawberry with the liquid based freezer, the strawberry can be frozen without any food cells destroyed, and can be bitten into normally, but changes to the texture of the strawberry were present, but overall, texture was still soft. When actually biting into them, the texture was more like a sorbet, with juicy sweetness flowing throughout the mouth."
We hope you found this article helpful. If you have more question regarding flash freeze technology, please do not hesitate to contact us via the contact page, blue mail toggle, or you can contact us directly via [ support.en@flash-freeze.net ]
 
 
 

Re・Joice Freezer


This is one of the Liquid based freezers that uses alcohol at -35℃ and with 20 times more thermal conductivity than the normal shock freezers, flash freezes the product. By using a special method such as liquid freeing, it is made possible to freeze the ingredients at extremely high speed.