Freezer Burn: Finding a Solution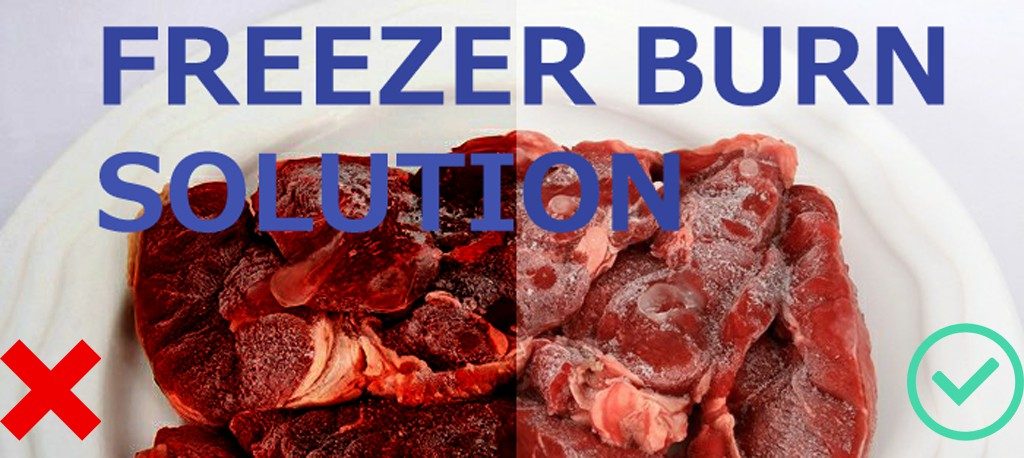 What is Freezer Burn and How Does it Affect Your Food.
A common question that we receive from our customers is, "What is freezer burn and how can we fix this issue?"
Freezer burn is one of the major issues in terms of food storage in business and non-business settings alike. Before we go into the ways by which you can prevent freezer burn on your food or ingredients, let us first look at what freezer burn really is.
Freezer burn is a phenomenon that occurs when food that is being frozen is damaged via a mixture of oxidation and dehydration. As the dry air absorbs the water molecules within the contents that are being frozen, this in turn makes a "burnt" mark on the surface of the food or ingredient.
Now, in terms of the content getting freezer burnt, once the water leaves the cell wall of the food that we are freezing, it takes upon a burnt texture. At this point, content that are were frozen in a dry atmosphere, it cannot be returned to its original state.
That is why when freezing food or ingredients, being aware of the time the content is kept in the freezer storage as well as packaging is an important factor to consider before freezing your food.
What are the reasons for Freezer Burn?
Freezer burn can occur due to various reasons, the most important being the loss of moisture. Improper packaging leads to the loss of moisture which in turn leads to the food drying and looking burnt.
Freeze storing food for too long can also cause this affect. After all, freezing food can only prolong its shelf life for so much. This can also take place when there are fluctuations in the temperature inside a conventional freezer, in turn fluctuates the foods core temperature.
How do you tell if your food is Freezer Burnt?
To give you an idea on what to look for when you are checking whether your food or ingredients have been freezer burnt, we will show and explain to you when your food is damaged. Below you can see several images showcasing parts of the food that has been freezer burnt. These images showcase how freezer burn can affect a wide range of items from meat, fruits, and vegetables.
Source: moderndayhome.com
The images noted above have all one thing in common, they are all affected by freezer burn. Now, again freezer burnt food is harmless, but it will taste quite "bad" for lack of a better word. It will taste dry, tough, and almost completely different from that of the food that you froze in the first place. Don't worry though, we've got your back. This problem affects everyone that plans to preserve food via freezing methods.
These two problems can be easily solved if you purchase a plastic container, or closed sealed bag, such as a zip lock bag, or others with similar functions. Now, even using these packaging options, this usually just prolongs the freezer burn as these options still do not change the atmosphere in which the food is being frozen in. There are more permanent ways to freeze store your food and prevent it from being freezer burnt, but what is it?
How to Prevent Freezer Burn in Your Food
Now that we have gone through what is freezer burn, and the causes, let us look at ways to avoid freezer burn when freezing your food or ingredients.
There are various ways to prevent freezer burn while freezing. One of the most used methods involves a simple change in packaging to make sure that the dry air does not directly touch or affect the surface of the food. This is one popular method for those that have regular freezing machines at their homes.
A big mistake that many of these freezer home owners make when putting their products in the freezer is putting it as is with the packaging that came with it when it was bought in the grocery store. As noted above, just changing the packaging will indeed help with freezer burnt food, but it only slightly just prolongs the affect rather than solving in it all together.
When it comes to freezing, the fact of the matter is that the equipment is the main factor that determines whether your food will get freezer burnt or not. For regular home owners, you can follow the simple rules noted below to prolong the freezer burn for a short period of time for the items that you plan on freezing in your regular home freezer.
    • For vegetables or fruits, you want to first blanch it/ boil them in hot water and then put the vegetable or fruits in cold running water in the sink before putting them on a zipped bag and placing them the freezer. This should help with freezer burn and prolong it for roughly some 3 to 5 days depending on the vegetable or fruit.
    • When it comes to meat, just make sure that it is tightly zipped in a bag before placing in the freezer. This should delay the freezer burn for at least 3 to 4 days.
    • Lastly, make sure that the temperature in the freezer is below 0 Degrees Fahrenheit, or 32 Degrees Celsius.
Now, if you are a business owner who is looking to freeze your food without getting it freezer burnt for weeks or months at a time, you must first make sure you have the right equipment for the job. In the business world, you do not have to only worry about preserving your food for long periods of time, you must also make sure that your product is able to maintain its original freshness, flavor, texture, and moisture throughout the entire freezing and thawing process while still being able to increase speed and production.
Don't worry though! We have the best Flash Freezers in the market.
Our Flash Freezers will definitely help you get your business on track.
Flash Freeze Technology
With our flash freeze technology at the forefront, our specialized freezers are not only able to prevent freezer burn, but they can also reduce the drip loss  of flash frozen food and ingredients, allowing you to store them for a long period of time while still maintaining their original freshness, flavor, texture, and moisture.
This is truly the next generation of food freezing technology that will help business professionals not only increase their freezing production speed, but also help business professionals make sure that their customer base receives the product as you intended them to, fresh and ready for the masses to consume!
If you are interested in improving your business, then our Flash Freezing Technology is your go to choice!
If you would like assistance in choosing a Freezer or if you've chosen one already, please feel free to contact us via the blue mail toggle, contact page, or you can even contact us directly via [ [email protected] ]!
We would be more than happy to assist you in finding the perfect flash freeze based technology for your growing business.
Note: If you want to see how well our flash freeze technology works, access the article below to see some real examples!