Are Blast Chillers a Good Choice for Your Business?
A Cost Reducing Solution ?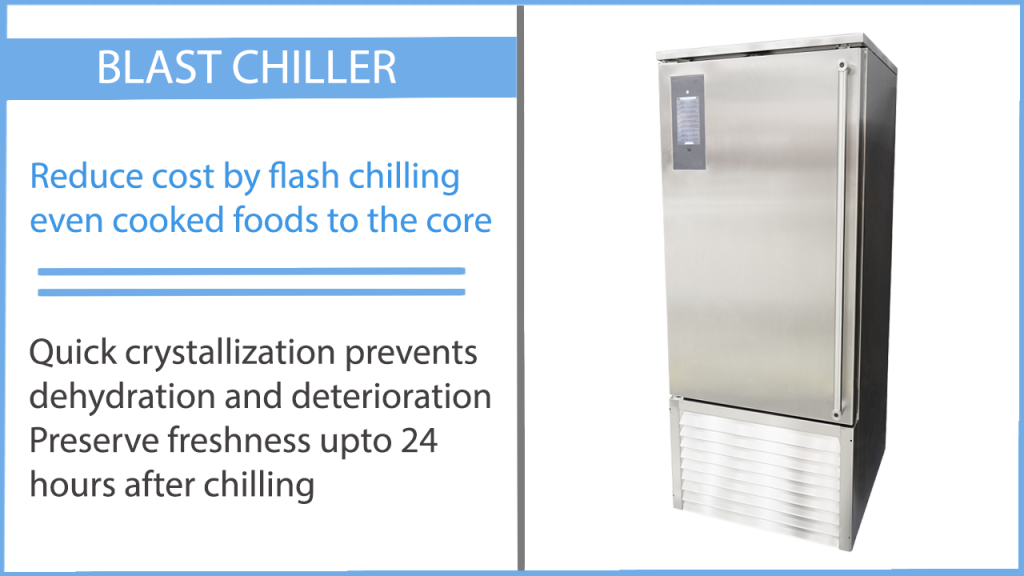 Blast Chiller Technology
A Blast Chiller is a high-end chiller in which we can cool food or ingredients that are at relatively warm temperatures. These items can then be stored for a short period of time. 
Food has a high chance of bacterial infection when temperatures between 10°C to 62°C are reached. If these temperatures are reached by the food or ingredients in question, it has a high possibility of losing flavor and texture as the food begins the process of deterioration.
People believe regular freezing techniques can prevent deterioration of food products, but in some cases it can increase it! Slow cooling food or ingredients, causes crystals form on a molecular level. These crystals increase in size over time and eventually affect the food's wall, tearing down texture and watering down flavor.
Blast Freezers (like our 3D Freezers) on the other had spread out the crystals via rapid cooling to maintain texture and lower the chance of crystals growing by passing the 62°C to 10°C temperature range instantly! Today, we are going to look at how a Blast Chiller and a Freezer can help your business! 
Maintaining Inventory and Cutting Cost
It may not seem important or cost efficient to be concerned about how you freeze your inventory, but using the right tools can further increase the longevity of your products. This decreases cost via avoiding deterioration and allowing you to keep food stored for a long time. Blast chillers are known for their cooling capability at lower prices compared to other commercial freezers in the market, but lower prices don't mean better outcome in the long run. In the long term, costs of not increasing production due to limitations in the tools you use  (like freezers and chillers) or maintaining the quality of products after they have been defrosted can ultimately hurt you and cost you potential growth in sales and profits.
Our premium Flash Freezers can freeze various products in a matter of 20 minutes. Blast Chillers can do that over 90 minutes!
Please look at 3d Freezer line or our fastest freezer (freeze in less than 10 minutes!) Re-Joice freezer! 
Again, Blast Chillers are not for Freezing food for a long period of time. Blast Chiller's greatest strength is it's capability to maintain freshness via cooling the food or ingredient for a short period of time. 
Difference Between Cooling and Freezing While Keeping Food Fresh
The Blast Chiller Cooling Technology is often confused with the "Shock Freezer" Technology. The difference between the two is that the Blast Chiller only cools down items while a Shock Freezer freezes. We will use numbers to explain the differences in more detail.

The Blast Chiller relies on technology that can freeze the core temperature from 90℃ down to 3℃. The Blast Chiller freezer flash freezes the core of the ingredients. Because of this rapid cooling, the temperature zone of 62℃~10℃ where risk of bacteria growth increases can be bypassed at high speeds. Thereby, preventing dehydration and oxidation that leads to deterioration of ingredients along with safety of ingredients. Produce is able to be maintained for a short period of time without actually having to freeze the item. This the main selling point of getting a Blast Chiller; cooling down the ingredients but keeping them un-frozen to sell shortly thereafter.
Blast Chilling ultimately does what  freezing can not do, preserve the ingredient's or foods smell, freshness, color and nutrients for a short period of time and still keep the product un-frozen.
Most Freezers cannot guarantee to freeze items at high speeds while keeping the frozen item's original texture and flavor.
Our Flash Freezers which can go from 3℃ down to -18℃ at high speeds are able to do just that !
Business owners can now freeze their products while not having to worry about keeping them "fresh" for their customers. If you want to know more about the difference, our featured article, Blast Chiller vs Blast Freezers, goes in-depth on the over-lining difference between freezing and cooling!
Final Thoughts on Blast Chillers
Having a Blast Chiller to cool down frozen products is a necessary tool for business owners that need to make sure their products are kept cooled, but not frozen for a short period of time. A Blast Chiller is a good start for a business owner, but for a veteran who is now planning to grow their business across their country or around the world, just investing in a Blast Chiller might hurt you business growth.
You need speed, quality, and versatility. We believe that we have found the perfect products that are able to handle a growing business and it's demand for faster freezing and cooling time.
Each of the products listed below are faster than any Blast Chiller/ Blast freezers in the market, with freezing times of about 20 minutes with the air based freezers and only a few minutes(10 minutes) for the ReJoice liquid based freezer (the fastest liquid based freezer in the market).
They are not only fast, but maintain product moisture and texture intact, unlike other freezer lines they would make for great freezers to use along side a blast chiller as the freezing speed will allow you to do business both in a domestic and international setting!
3D Freezer Features:
–

ACVCS

Next Generation Blast Freezing Technology
–

360°

Freezing: Freeze the content's surface from all sides at the same time to cut down freezing time. 
– Contents Frozen in our 3D freezer will maintain most of their

original texture

and

flavor

. 
–

No ice buildup

in the vents for easy cleaning. Guaranteed. 
– Freezer models

customizable

to fit your company needs.
– Freeze Contents of temperatures up to

90°C

without the need to cool them down before hand.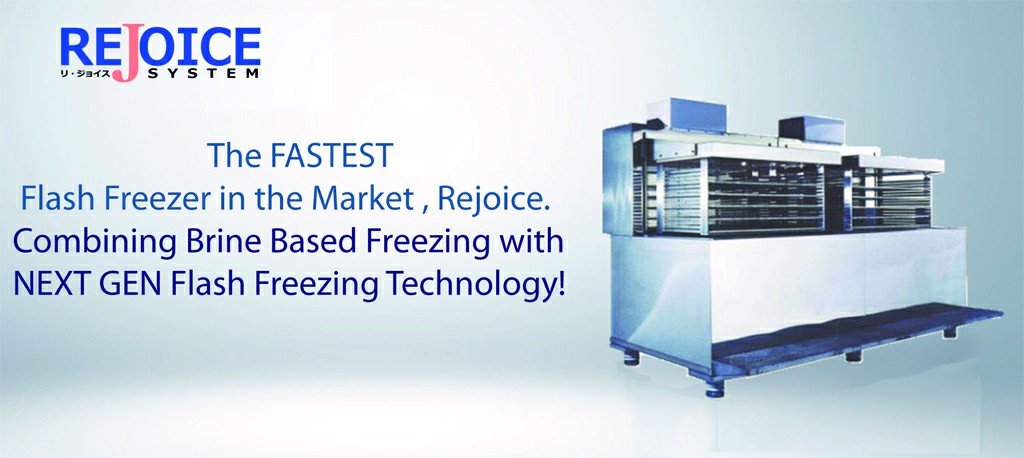 ReJoice Freezer Features:
–

High Quality

Freezing.
–

High thermal conductivity

and short freezing time.
– Evenly freeze all products from all sides via

liquid brine freezing

.
–

Easy set-up

and processing management.
– Design and size

variety

available.
– Maintain frozen content's

original freshness

.
– Experience one of  the

fastest freezers

in the market 
If you would like to know what is the best next thing outside of the bast chiller market, you are more than welcome to contact us via the blue mail toggle or via our direct e-mail address at [email protected] !
We would be more than happy to answer any question you may have or assist you in the purchasing process.