Introducing our Multi-Purpose Blast Freezer Line!
For Business professionals they want to ensure that their customers are satisfied with their product or services. They also want to be versatile and be able to keep up with the ever changing business environment that they are in. That is why when it comes to investing in machinery they want to make sure it can do more than one job. This is where a multi-purpose freezer and chiller, two in one machine!
What is a Multi-Purpose blast freezer and Chiller?
Let us quickly overview what is a blast freezer and a blast chiller and what each machine provides in terms of functionality.
Blast Freezer: rapid freezing done right
he What is a Blast Freezer? To put it simply, a blast freezer is a specialized freezer that is meant to freeze food rapidly to reduce damage and prepare the food to be stored in a storage freezer. The term blast freezer is used to categorize these types of freezer. Within the blast freezer category, there is a wide array of options that will give you a variety of freezing quality depending on where you purchase the freezer. There are a lot of blast freezer manufacturers in the market, each with their own technology they use in their blast freezers to freeze food. This is why there is a large discrepancy between the quality of blast freezers in the market. This is why as a professional business owner, we highly recommend that you compare, test, and evaluate all the options that you have available as all the blast freezers that are available in the market are not the same. This is the same in all freezer categories, including blast chillers.
Blast Chiller: Cooling down to the perfect temperature
Let's look at blast chillers and what they can do. What is a blast chiller you ask? A blast chiller is a chilling machine that As with blast freezers, blast chillers are also be a vital form of ensuring food lasts longer while reducing the condensation that occurs when freezing and taking out a product from a freezer. Usually for delicate prepared foods, in order to ensure that the food's original quality is not deteriorated in the process. Some Foods that are made and are in high temperature are not recommended to freeze right away as may create enough condensation to affect the product. This is when you need a good blast chiller that is able to avoid creating condensation on the food. For Blast chillers, the point is to cool down the product right above freezing levels a around 3C degrees. Again , like blast freezers, there are a wide variety of blast chillers available in the market that range in quality. Just like blast freezers, any serious business professional needs to evaluate and compare their blast chiller options that they have available and evaluate which blast chiller would be good for their business. Now what If you need both? Well, we do have an option for you too!
Getting 2 in 1 with our multi-purpose flash freezer line
As for getting the best of both worlds, through rigorous testing, evaluations, and trial and error we have been able to create our own specialized blast freezer and blast chiller line that would be best for those business professionals that need both functions in one machine! Now what are our blast freezers/chillers all about? Let me quickly go over what's available.
What can our blast freezer and blast chiller line can offer for you and your business
Here is an introduction on our own two-in-one blast freezer and chiller! An extended look on all the features, options, and choices we have available for those business professions that want the best quality for their business. 
A Blast Freezer and Blast Chiller in One!
We have 6 different lines available for all different business needs. From our Elite line for those business professions that need the best and most versatile freezing and chilling options to specified lines like the baking line that is made specifically for those focused businesses that need focused in what they freeze and chill.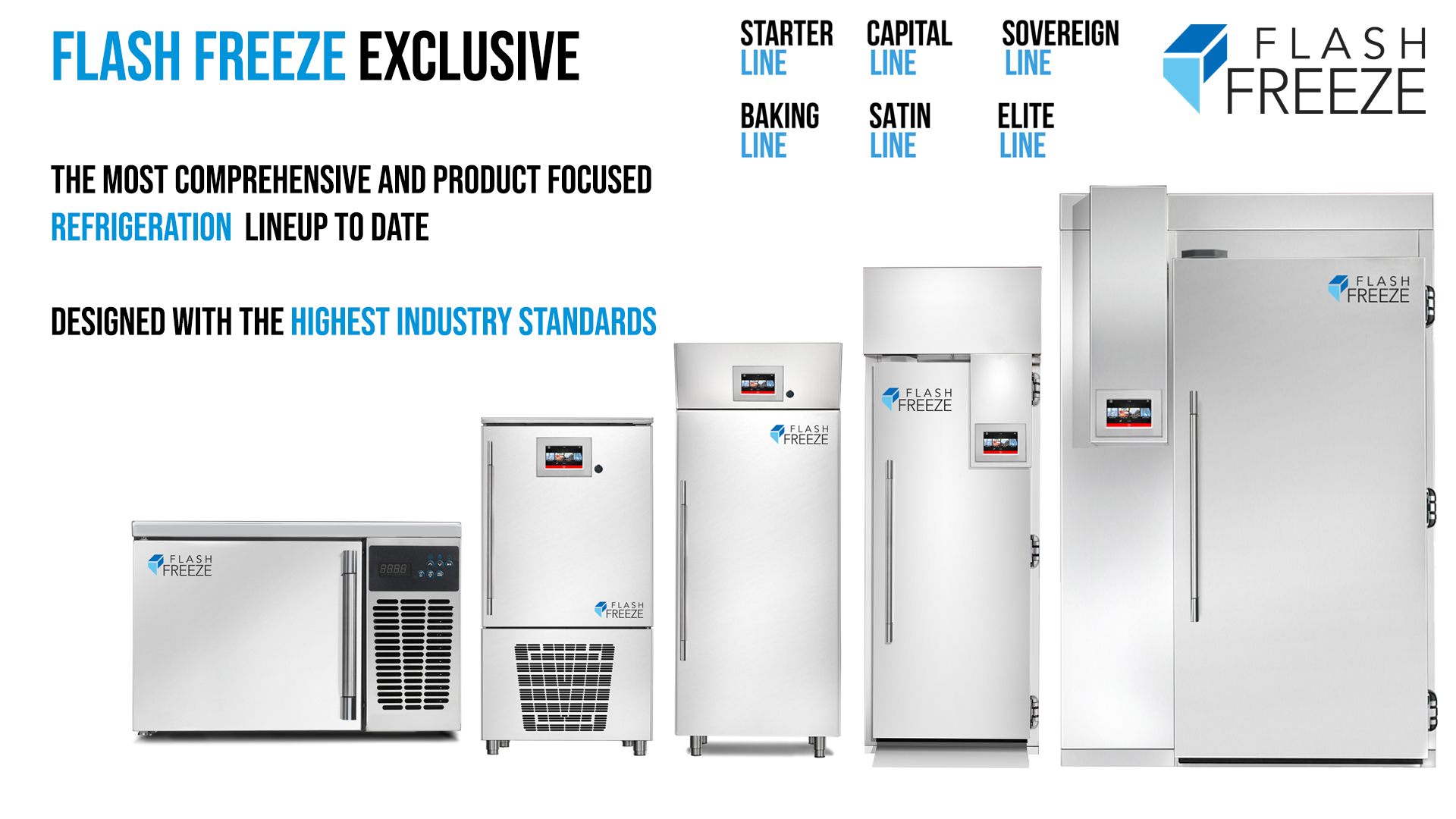 Flash Freeze Exclusive Blast Chiller/Blast Freezer Line Features :
Here we look at all the features that our blast chiller's and freezers have. From Quality focused components, to a wide power custom range so the machines can be used in any country.