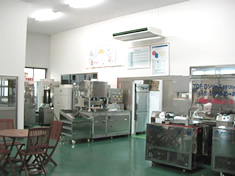 Tsukumi Tuna Festival
Oita・Tsukumi Tuna Festival(Oita Financial News February 19, 2015)

http://oita.keizai.biz/headline/339/

 
In Tsukumi City, Oita, the Tuna Festival has commenced.
The start date is February 1, and is being organized by the Tsukumi Tuna Research Team.
Currently, Tsukumi City harvests mass amounts of tuna, but most of the tuna caught are sent out to the Kanto City region.
Therefore, this Tsukumi Tuna Festival is held with hopes to"have the locally fished tuna tasted by the people in this city". The tunas are served by the black tuna farmers "Hyoushoku chefs". The tuna has been raised by method that has 50 years of fishery farming history. A four-year-old tuna weighs over 100 lbs (50kg).
Upon being harvested, the tuna is shipped to Kasuga Fishery Processing Company where it is divided up to different selections. The disassembled tuna is trimmed down to smaller pieces and liquid frozen (Alcohol Brine). With this liquid based freezing technology, delicious and fresh tuna is now deliverable to restaurants and clients all over.
Wouldn't it be great to deliver special ingredients like the Tsukumi Tuna introduced here while preserving the best freshness and taste? By freezing the ingredients normally, the fresh flavor of the food supply cannot be presented to the customers.
Therefore, in order to deliver the original taste of the product, there are many usage shifts of integrating flash freezers.
For example, one of the more famous flash freezer, our very own Artlock Freezer, is operated in the company restaurant.
Surprisingly, the meals served here are all prepped beforehand
and is stored, resulting in the cutting down of wages for chefs and workers along with preservation decreasing total waste. 
Below are the comments of those who have eaten at this restaurant.
"I can't believe these are all frozen food"
"Great texture"
"Most delicious frozen food I have ever had"
The flash freezers introduced in this article is further explained below.