Finding The Best Shock Freezers For You!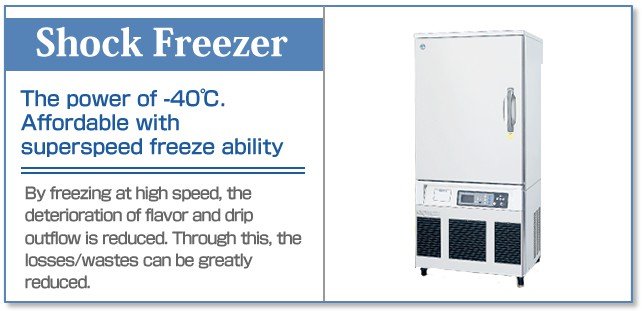 Note: Prior to reading this article, please take note of the fact that shock freezers are only optimized to freeze food at 3° C or lower.
If you wish to freeze items at temperatures of around 90° C or lower, please read our Artlock Freezer article.
Alternatively, if you wish to learn more about how blast freezers work, please read our article for more information.  
High Efficiency Freezer: Shock Freezer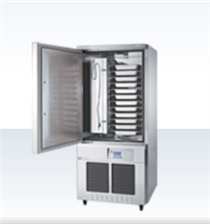 A Shock Freezer is a machine that excels at instantly freezing ingredients that are at room temperature. A great feature of our high-end Shock Freezers, like other flash freezers is that they can take products from regular temperatures to -40C in a very short time span. This means that a shock freezer and flash freezers can execute high quality preservation faster than any other freezers currently out in the market. The real question is, what is the difference between a shock freezer and a flash freezer? Let's answer that here and now.
Flash freezers are freezers that are capable of passing through the maximum temperature zone of crystallization (-1℃ to -5℃) in less than an hour. Shock Freezers on the other hand take about 90 minutes to reach (-1℃ to -5℃) zone. This was done via comprehensive tests we made via our Tokyo's Mita freezer exhibition hall. 
Depending on the ingredients or food that is frozen, the time to reach crystallization at the molecule level on both the shock freezer and flash freezer might have similar freezing times. The ingredients or food that is frozen tends to lean towards smaller portions in order to freeze items as rapidly as a flash freezer. Of course, if you are handing such small products, then going with the more AFFORDABLE shock freezer options is desirable.
Save BIG by using Shock Freezers
When it comes to saving money and increasing profitability via increase in sales, having a flash freezer or shock freezer will assist any business owner that has a focus in selling ingredients or food to their customers.
Maintaining food and ingredient quality is one of many steps a smart business owner should first focus on. With a shock freezer, business owners don't need to worry about keeping their ingredients or main products fresh because with shock freezer technology while increasing inventory lifespan via quickly freezing items.
Below are some of the best shock freezers out in today's market.
IRINOX Series: 8 different modes available!

The famous Italian brand, IRINOX, is known throughout the business community as a high-tear manufacturer.
IRINOX is known for taking in the input of chefs and other market professionals and make shock freezers to meet their needs.
1. Blast Chill
Freshly cooked meals at 90℃ can be flash frozen to 3℃ to the core. By surpassing the temperate zone at high speed, the flagrance, color, freshness and safety of the ingredient is maintained.
2. Shock Freeze
Flash Freezes food down to -18℃. The maximum temperate zone of crystallization can be passed at super speed, and prevents destruction of inner food cells from dripping out. Smell, color, freshness, safety, nutrition along with moisture and texture can be preserved in the unchanged pre frozen state.
3. Defrost
By emitting the perfect wind strength and inner temperature, can defrost ingredients without damage. The date of defrosting can be set and be scheduled in reference to other operations going on.
4. Heat and Cool Insulation
Can maintain the storage temperature from 85℃ down to -35℃. It can preserve a plethora of food selection at a pin-pointed temperature.
5. Reheat
Can heat core of frozen product up to 75℃. The heater also has a timer that can be set, and be used while going through other preparations.
6. Low Temperature Cooking
Can automatically heat and cook meals. Through this, the dishes that have been cooked at low temperature can be prepped in variety of optional selected state of (preheated・refrigerated・frozen).
7. Fermentation
The Multi-Fresh is the world's first flash freezer capable of fermentation. By timing the heating correctly, the IRINOX freezer launches the company's original fermentation program and processes the defrosting and fermenting. The whole process of fermentation from heating to preservation can be controlled manually.
8. Pasteurization
The cooked product can automatically be put into any state(preheat・refrigerated・frozen) desired. With this function, the inner storage can be heated to 80℃ and ingredients and equipment's can be pasteurized.
Freezing is easy with QXF Series!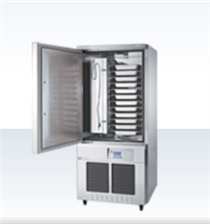 If you are looking for a true, multi-use freezer, than QXF is the right brand of freezers for you. With its dual, Blast and Shock freezer combination, it' no wonder why it's been gaining in popularity in the past couple of years. The QXF series covers flash freezing temperatures thereby, quickly freezing un-cooked or cooked meals rapidly while maintaining some of the contents original freshness and flavor! Texture on some of the products will be affected. 
Management of shock freezers and Blast chillers!
Here are 3 quick extra features of Shock Freezers and Blast Chillers
・ Keeps the aroma of the meal with flash freeze.
・ Flash passes the temperature zone where bacteria spreads and roots.
・ Cuts down freezing time and increases work efficiency.
On top of it being a super easy to use shock freezer, it's also full of extra features via usage of a microcomputer installed within the freezers. This allows the users to manually control the temperature of these special shock freezers.
Additional functions include:
Core temperature Sensor
・ 3 Functional System (Core temperature・Storage Temperature・Timer)
・ Programmed Functions specially designed for ingredients.
・ UV Powered Lamp
The Optimal Way to Freeze Sweets: Hengel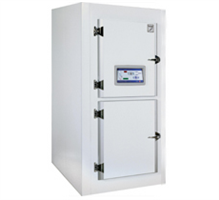 The Hengel Shock Freezer specializes in multicultural sweets and is a shock freezer specializing in confectioneries. When freezing sweets in the orthodox freezer, the water molecules destroy the food cells inside the ingredients frozen. As a result, the texture and fragrance of the sweets is lost, along with the disassembling of oils and fats.
On the other hand, the Hengel Shock Freezer freezes sweets with a powerful freezing ability. Through this, the inner cells of the sweets is not destroyed, and the deterioration of both taste and dryness is prevented.
With the linear thermo-sensor inside of the freezer, not only the maintenance of core temperature preservation, but the timer setting of freezing and heating food is made possible. With this, the delicious quality of the confectionary is maintained frozen.
HBC Series: Capable of 3 DIFFERENT Cooling Modes Image
What separates HBC Series special is the implementation of similar flash freezing technology. All HBC Series Freezers have 3 different cooling modes as listed below.
1. Soft Chill
– Releases cold air at -1C cold fronts to freeze ingredients and their core below 3C. Small items like pudding, small fruits or vegetables.
2. Hard Chill
– With -20℃ cold fronts, freezes the ingredient's core below 3℃. Much flasher than Soft Chill, and is recommended for foods that have problems with bacteria growth.
3. Shock Freeze
– With -40℃ cold fronts, freezes the ingredient's core down to -18~-20℃.
Extra features include
– Core Temperature Control
By setting the temperature of the core, the machine changes to preservation mode upon reaching the designated temperature.
– Timer Control
It has a pre-installed timer, the timer is for when the freezer enters the preservation mode upon reaching the designated time.
– Internal Temperature Control
By changing the temperature, the freezer enters preservation mode when the inside of the device reaches the designated temperature.
Anti-Food Leakage Shock Freezers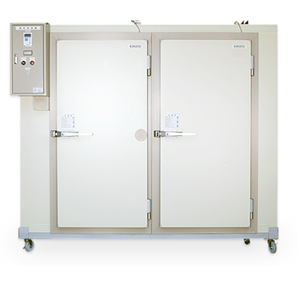 Created by Kokuekireiki. Co.,Ltd, this "anti-drip outflow" freezer was specially designed to keep ingredients and food items from drying up and maintain freshness (moisture and all *).
This shock freezer is using state of the art technology to keep incoming air out of the freezer. This allows the ingredients or food that are in the freezer to minimize moisture loss. A great point is that you can personally choose the size of the shock freezer to fit your needs. On average, our shock freezer from "Kokuekireiki" cuts electricity cost down to 1/5 of the cost of a regular shock freezer too!

Final thoughts on shock freezers
Shock freezers do have their good points, like multiple freezing modes and low prices. But with the low price comes some short coming with the shock freezer line. For instance, texture and moisture will not be the same as it was before pre freezing, the time it takes to freeze items can take an hour or longer depending on the shock freezer. Also, the lifespan of a shock freezer relative to our flash freezers is relatively less.
Before purchasing a blast freezer, it is important to know how a blast freezer works. You can learn more by reading our article.
When it comes to business, it takes a extra edge to push yourself beyond the competition. When it comes to freezing, you can use a shock freezer to achieve that but if you wish to truly make sure your products are being frozen efficiently, shock freezers aren't for you. They are great for those of us that are just opening up a new business and need an affordable commercial freezer. If you want an air based flash freezer, which are very similar to shock freezers in terms of usability, but are better equipped to handle delicate items like bread, soft textured cooked items, then may I suggest having a look at our Exclusive Freezer Line line?