Industrial Freezer: Worth the Investment?
What's an Industrial Freezer?
When looking for freezers for your business, what kind of freezers should you be looking for? There are various freezers available. From commercial freezers to blast freezers, flash freezers, liquid based freezers, and much more.
These are special freezers that are specifically developed keeping the needs of business in mind. All these freezers are related and are part of the industrial freezers category. All have different features that focus on different kinds of freezing, each freezer made specifically for a specific market. This gives business owners a wider selection and gives them the opportunity to find the best industrial freezer for their business.
Now, to answer the question of, "What is an industrial freezer?"
An industrial freezer is used exclusively in a business setting to freeze industrial products. An industrial freezer is a machine that is usually order made, specifically crafted for the business that ordered the freezer.
That is why in order for business owners to order an industrial freezer, they should first need to understand what their company needs in terms of freezing time, how much product is involved and how many hours the produce needs to be frozen in a day. The size of the products that they want to freeze, the space in which they have to install the freezer in, and other various factors are also taken into consideration while making these decisions.
How much does an Industrial Freezer Cost?
Now that we have clearly defined what is an industrial freezer, let us look at how much would one cost.
Calculating the overall cost of an industrial freezer is not an easy task as most industrial freezers available in the market today are specially order made to fit the needs of your company (or at least a good industrial freezer). So how can you know the actual cost of one?
Everyone thinks that is an easy question to answer, but the reality is that industrial freezer prices and costs are quite difficult to calculate. This is because of the made per order process that each and every business that orders an industrial freezer, must go through.
We are going to explain how freezer manufacturers calculate industrial freezer costs. There are various variables that go into it, but one of the main factors that the manufacturer needs is how much does a business plan to freeze on a day to day bases. This can change the price and overall running cost of the freezer that you plan to purchase for your business.
A 10 kg per hour flash freezer may cost $38,000 ~ $40,000 Dollars while a 100 kg per hour freezer may cost $200,000 ~ $220,000 Dollars. These prices are just estimates and will change depending on the inlet and outlet temperature, size of the product, hours of freezing, and more.
Our Partners and freezer specialist, Daybreak. LTD, can assist you in finding the end cost of the unit you need for your business and how much will it cost to run the freezer on a day to day basis to help your business create a proper budget and also consider cost versus performance analysis.
Industrial Freezers for sale, but where?
Now that we understand the general cost, the next step is to find where an industrial freezer is available for sale. There are various sites that do have industrial freezers available, one being Alibaba, as a great example of a business to business site where freezer makers are able to post their products and receive clients directly from Alibaba's system. It is the most popular B to B site for business owners that are looking for industrial freezers, but it does not mean it is the best.
As Alibaba is not solely focused on selling industrial freezers, their system is not fully optimized to deal with business owners that want to have a one to one consultation and have all their questions answered in a timely manner.
Freezer services available!
Since we covered all the other basics regarding costs, sellers, and so on, we can now discuss the industrial freezer services. Are they helpful? Will industrial freezer manufacturers help right from installation day?
It really depends on the manufacturer. In the industrial freezer industry, the manufacturers are not known for really having the best services relative to other industries. That is why we wanted to change that and provide our clients the best customer service possible. We want to make sure that we make it an easy and smooth process to purchase an industrial freezer.
Up until now going through Alibaba or other similar business to business site (B to B) is a hassle and it is quite difficult to not only see the freezers, but you really do not get a chance to test the freezers you want to purchase.
There are various reasons for this but one of the main reasons is the fact that all the industrial freezer providers and manufacturers do not really have a system in place to consult the clients through the entire purchasing and installation process, and if they do it will take them months to get everything together. That is where we and our partners, Daybreak, LTD worked together to put a system in place that helps each and every client and make sure that they get the proper consultation they need to make sure they can buy a freezer that is perfect for their business.
If you are in need of an industrial freezer and want to ask real experts for help or advice on finding the perfect freezer for your business, then please do not hesitate to contact us via the blue mail toggle, contact page, or you can contact us directly via email over at [ [email protected] ].
Below are two of our most popular industrial freezer lines with various freezer models available. If you want to know more about our Artlock freezer and ReJoice freezer line, click the images below.
Industrial Blast Freezer
We provide various blast freezer and liquid base freezer models. The industrial freezer manufacturers that we work with are able to order make batch style, tunnel, and spiral freezers. If you want more information please feel free to contact us. Below we noted our freezers main features.
Artlock Freezer Main Features:
– Next Gen Freezing Technology
– 360 Degree Freezing: Freeze the contents surface from all sides at the same time.
– Frozen contents WILL maintain original texture and flavor.
– No ice buildup in the vents for easy cleaning. Guaranteed.
– Freezer models customizable to fit your production needs.
– Freeze Contents of temperatures up to 90 C without the need to cool them (a freezer feature exclusive).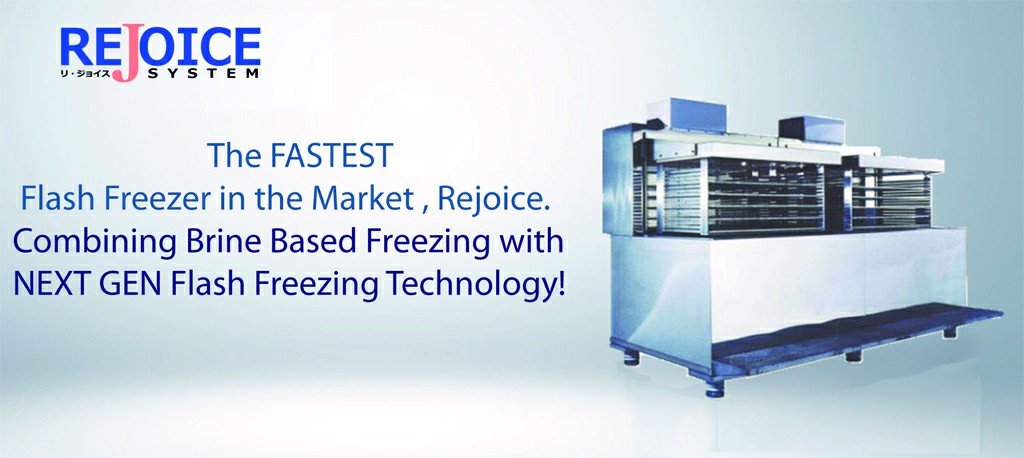 Rejoice Flash Freezer Main Features:
– High-quality freezing
– High thermal conductivity and short freezing time
– Evenly freeze all products from all sides
– Easy set-up and processing management
– Design and size variety available
– Maintain frozen contents original freshness.
– Experience the fastest flash freezer in the market!