Chest Freezer: Is It Right for Your Business?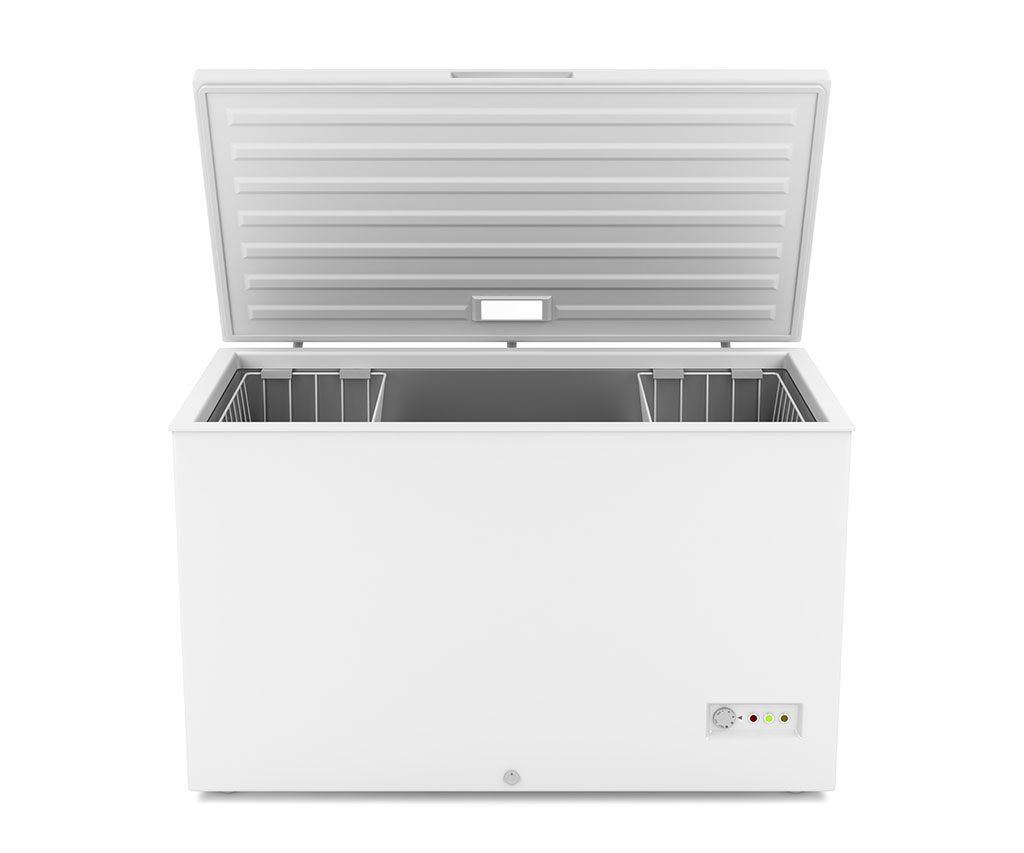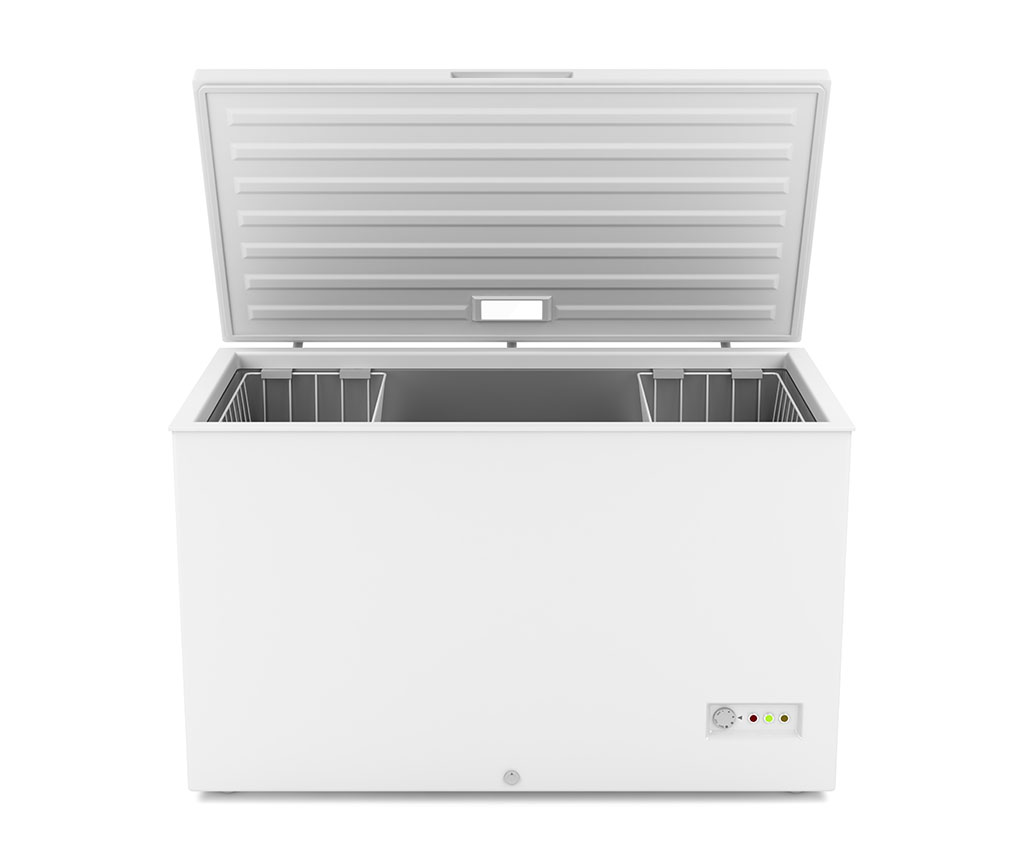 What's a Chest Freezer?
When looking for a freezer for your business, a wide variety of businesses consider Chest Freezers. But what exactly is a chest freezer?
Simply put, a chest freezer is a freezer that is shaped like a chest with an upward opening panel. Chest freezers are known for their extra room compared to normal upright freezer's as every inch of space in a chest freezer is utilized. A chest freezer is an ideal choice for businesses that do not have much room in their freezer area and need as much freezing space as possible.
When looking for a chest freezer, there are various brands and models out there to choose from. From simple stationary types to mobile chest freezers. There are chest freezers that are made exclusively for home use while others are exclusively made to be used in a business environment. But, which chest freezer is right for you? Let's find out!
Best Chest Freezers for your business
There are various types of chest freezers with different specifications, sizes, and overall freezing capabilities. For a business to be able to truly benefit from a chest freezer, there first needs to be an understanding on what type of chest freezers are made for business use and what feature is the most important to keep the chest freezer fully functional for continuous usage and best performance.
Commercial chest freezers
When considering any type of freezer, it is important to keep the needs of the business in mind when making a choice. Commercial chest freezers, in this case are made exclusively for business use.
Compared to home use chest freezers, commercial chest freezers are usually larger, have more freezing options and some size customization depending on the commercial chest freezer manufacturer or provider. Of course, just getting a commercial chest freezer is not enough to ensure a great purchase for your business. For the purpose of choosing the best chest freezer, we need to consider any additional features that are essential for serious business owners that want to get the best commercial chest freezer in the market.
Frost free chest freezers
When considering investing in a chest freezer, one feature that every business owner should be looking for is the feature for the chest freezer to be frost free. Frost free chest freezers are quite new to the market. In addition to providing less preparation time, a frost free chest freezer is also optimal in eliminating the frost in the freezer which will in turn prevent any freezing slowdowns as well as reduce overall freezer preparation and chest freezer maintenance. This will therefore increase overall production productivity while reducing storing or cooling time of your company's products.
Now, compared to regular chest freezers in the market, a frost free chest freezer will cost more in terms of the initial cost. For example, a 14 cubic foot frost free chest freezer would sell for $1,600 dollars while a chest freezer of the same size without the frost free feature would go for 400 to 500 dollars depending on the provider you get the chest freezer from. This is quite a large price difference.
The price difference is obviously due to the fact that frost free chest freezers generally have lower maintenance time and higher freezing output as frost absorbs the cold air and lowers the overall freezing capabilities of the freezer
Chest Freezers vs Flash Freezers: What's the difference?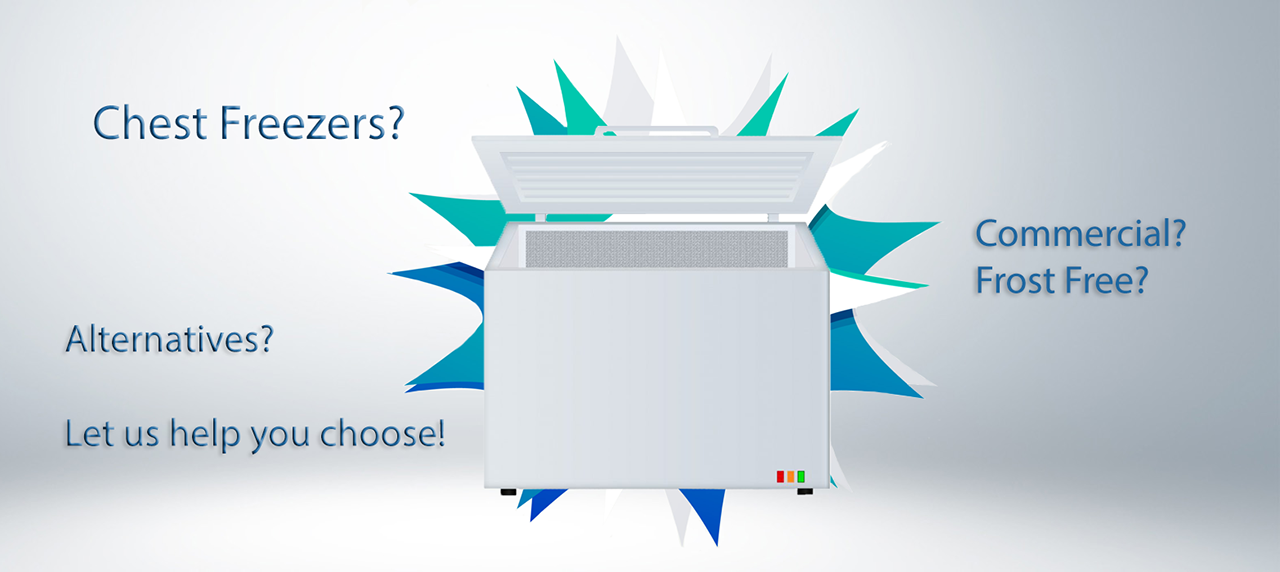 Now that we looked at the chest freezer and understand what it is and what it can do for your business, is it the perfect fit for your business? How would your company benefit from investing in a chest freezer and what would be some of the missed opportunities?
Commercial chest freezers are relatively on the competitive side in terms of pricing. But that does have its setbacks.
For example, despite chest freezers being used commonly for initial freezing of goods and produce, chest freezers usually fall short in terms of product maintenance. Every chest freezer's ultimate flaw comes from the freezing time. Chest freezers freeze relatively slower and less evenly as the design does not allow much room for free airflow from all angles of the freezer. This is mostly due to the fact that the majority of the space is used for storage.
Keeping this freezer issue in mind, what would some other freezing alternatives outside of chest freezers be? That would be a Flash Freezer. Flash freezers are another great option for businesses that are serious about increase freezing speeds while maintaining their frozen products original flavor and texture.
If even an expensive chest freezer has a high drip loss ratio and slow freezing time, then what are the other freezing options that are available for business owners? Let us look into two types of Flash Freezers that may benefit your business and push you ahead of the competition!
Artlock freezer
If your business is looking to increase freezing time while maintaining most of the contents' original texture and flavor, then our Artlock flash freezer might be more up your alley.
If you would like a complete explanation of the Artlock freezer and read about all of its capabilities, please click the image below.
Unlike chest freezers, the Artlock freezer uses blast freezing technology with 360 degree freezing capabilities, allowing cold air fronts to permeate though the whole freezer, thereby freezing content from all sides, evenly freezing the produce, while reducing freezing time and decreasing drip loss.

Artlock Freezer Main Features:
– Next Gen Freezing Technology
– 360 Degree Freezing: Freeze the content's surface from all sides at the same time
– Frozen contents will maintain original texture and flavor
– No ice buildup in the vents for easy cleaning. Guaranteed
– Freezer models customizable to fit your company needs
– Freeze Contents of temperatures up to 90 °C without the need to cool them beforehand 
Now if you package your products before freezing them and want to focus on increasing the freezing speed, another great option would be the line of ReJoice Freezers.
ReJoice Freezer
If your business is looking for the best way to optimize freezing time while maintaining a decent drip loss ratio, ReJoice Freezers may be what you need! With one of the fastest freezing times out in the market and low drip loss, it also a great choice. Unlike chest freezers, the rejoice freezer uses alcohol brine to freeze air tight packaged products.
For full product descriptions, freezing statistics, videos, and images please access our dedicated ReJoice Freezer page linked on the image below.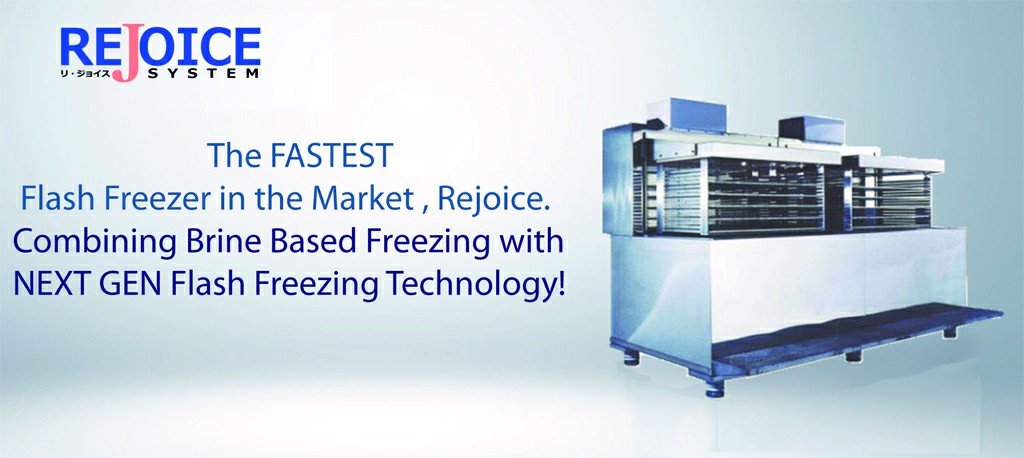 Rejoice Flash Freezer Main Features:
– High-quality freezing
– High thermal conductivity and short freezing time
– Evenly freeze all products from all sides
– Easy set-up and processing management
– Design and size variety available
– Maintain frozen contents original freshness
– Experience the fastest flash freezer in the market
Overview
Chest Freezers make for a good freezing storage freezer option that works great when you want to increase freezing storage but have limited storage room in your business.
But in the frozen food market, to make sure that your business and your products are frozen and stored properly, a chest freezer may not be enough to remain competitive in the ever-evolving frozen food market.
That is why if your business has a wider budget and is willing to invest in next generation freezing technology to ensure that you are always able to maintain your product's original quality throughout the freezing process, then flash freezers are the go to choice for you and your business.
If you are interested in finding out more about flash freezing technology and how it can benefit your business, please do not hesitate to contact us via the blue mail toggle, contact page, or you are more than free to contact us directly via [ [email protected] ]