The Benefits of Owning a Blast Freezer 2021
Popularity of Flash Freezers:
Blast Freezers and Flash Freezers have been steadily gaining popularity over recent years due to their ability to freeze products, increase productivity, preserve quality and help maintain inventory all year round. Companies involved in multiple industries, from food storage, to produce suppliers, restaurants and even manufacturers are investing in Flash Freezers because of their potential and their freezing capabilities. Because of this, the market has a wide range of blast freezers, blast chillers and flash freezers for sale. It might be daunting to go through all of the available choices so we will help you understand the benefits of flash freezers while also introducing some of the best blast freezers and blast chillers on the market.
If you want more in-depth information on how blast freezers work, feel free to read our article.
Flash Freeze Benefits:
Purchasing a Flash Freezer is a big investment to many, but the benefits and potential profits far outweigh any issues.
Today, we will be taking a look at the benefits that we can expect by investing in a flash freezer and the long term profits one can stand to gain by investing in flash freeze technology. It is important to remember that Flash Freezing commonly includes blast freezers so we will talk about the benefits of blast freezers as well.
Flash Freeze Benefits: Minimizing Drip Loss
Drip loss is the process by which products lose internal moisture and overall weight upon being defrosted. When products lose their mass through drip loss, the weight of the product decreases and in turn leads to loss through reduction in inventory weight.
Reducing drip loss is a priority for any blast freezer and producer hoping to efficiently make use of their inventory with minimal loss.
Our range of Blast Freezers and Rejoice Liquid Freezers help make this possible.
By minimizing drip loss and drastically improving freezing quality, our blast freezers ensure that you maintain the highest quality and standards of inventory in the market.
Flash Freeze Benefits: Increasing Output
Flash Freeze technology enables us to streamline the process of production and make it easier to handle high demands while maintaining inventory all year round.
Our Blast Freezers are capable of long running hours and will be able to help you batch blast freeze your products in minimal time while ensuring an increasingly steady rate of production.
This helps you not only ensure the quality of your produce using a blast freezer, but also enables you to keep your business running without worrying about maintenance issues every couple of hours.
Flash Freeze Benefits: Reducing Electrical Expenses
The Blast Freezer and Rejoice Flash Freezer lines are incredibly energy efficient.
They are able to freeze your product with extremely high quality while still saving you a pretty penny in terms of electricity. In fact, compared to conventional flash freezers, our flash freezers can provide you with 30-50% increased savings depending on the model and product frozen.
Introducing SW Ultra Low Temperature Blast Freezer :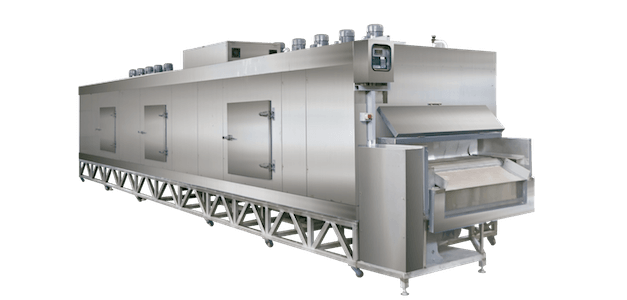 SW is Taiwan's Premier and only Ultra Low Temperature Tunnel Freezer Manufacturer. SW boasts a global clientele and years upon years of experience in the blast freezer and IQF and Tunnel Freezing Market. SW's Tunnel Blast Freezers allow for ultra low temperatures of up to -80 Degrees Celsius. If you are looking for a blast freezer or IQF Tunnel Blast Freezer that can do it all. All of these Tunnel Blast Freezers can also be customized to meet your own unique requirements.
Features of – 80 ℃ Ultra-Low Temperature Tunnel Type Rapid Freezing System Include:
Ultra-Low Temperature! Can reach – 80ºC!
Low Power consumption, energy saving
Uses High Quality Stainless Steel for easy cleaning
Customized models, lengths and features for various users
Flash Freeze Benefits: Our Blast Freezer and ReJoice Freezer Line
Blast Freezer Line:
The Blast Freezer Line specializes in Air Based Flash Freezing. It uses ACVSS Technology to deliver smart and efficient cooling with 360 Degree coverage. Its high speed smart cooling ensures that the food is evenly and efficiently cooled from all sides with barely any loss in quality, texture, or quantity while minimizing drip loss.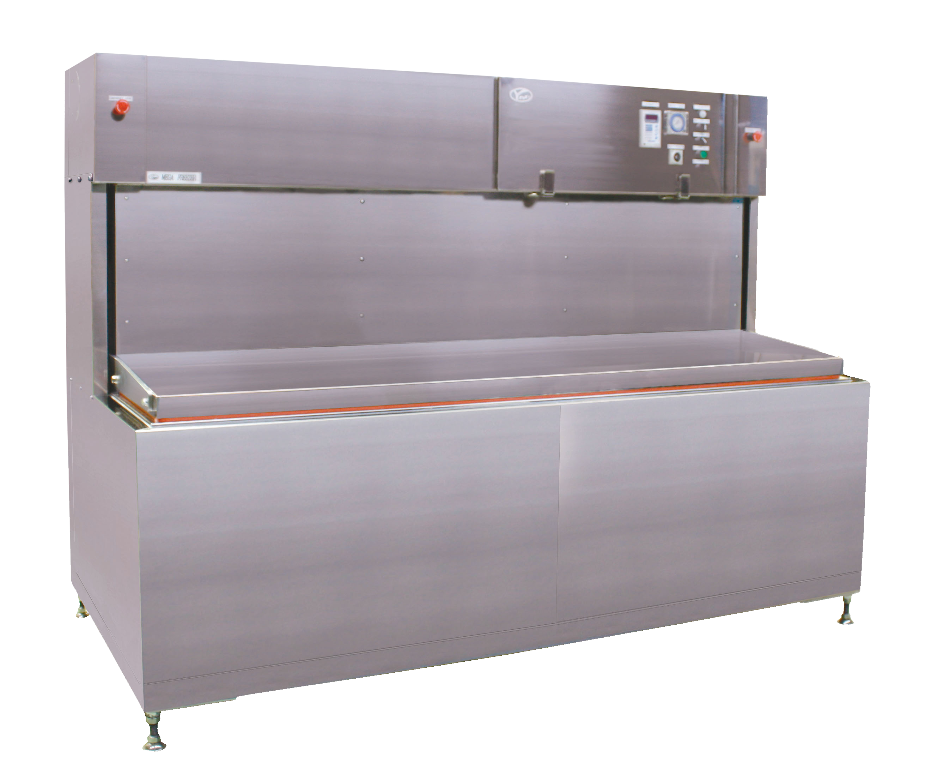 ReJoice Liquid Freezer Line:
The ReJoice Liquid based Freezer Line utilizes brine freezing to deliver high speed flash freezing capabilities to businesses. The ReJoice Freezer is the world's fastest liquid based brine freezer, rivaling a lot of nitrogen based freezers in terms of cost vs productivity.
Please do feel free to check out our  Blast Freezers and ReJoice Freezers at your convenience.
Flash Freezing using our exclusive Blast Freezing Line :
If you are in the market for a specialized blast freezer or blast chiller line that is specially designed with various applications and price points in mind, then look no further than the exclusive Blast Freezing Line from Flash Freeze.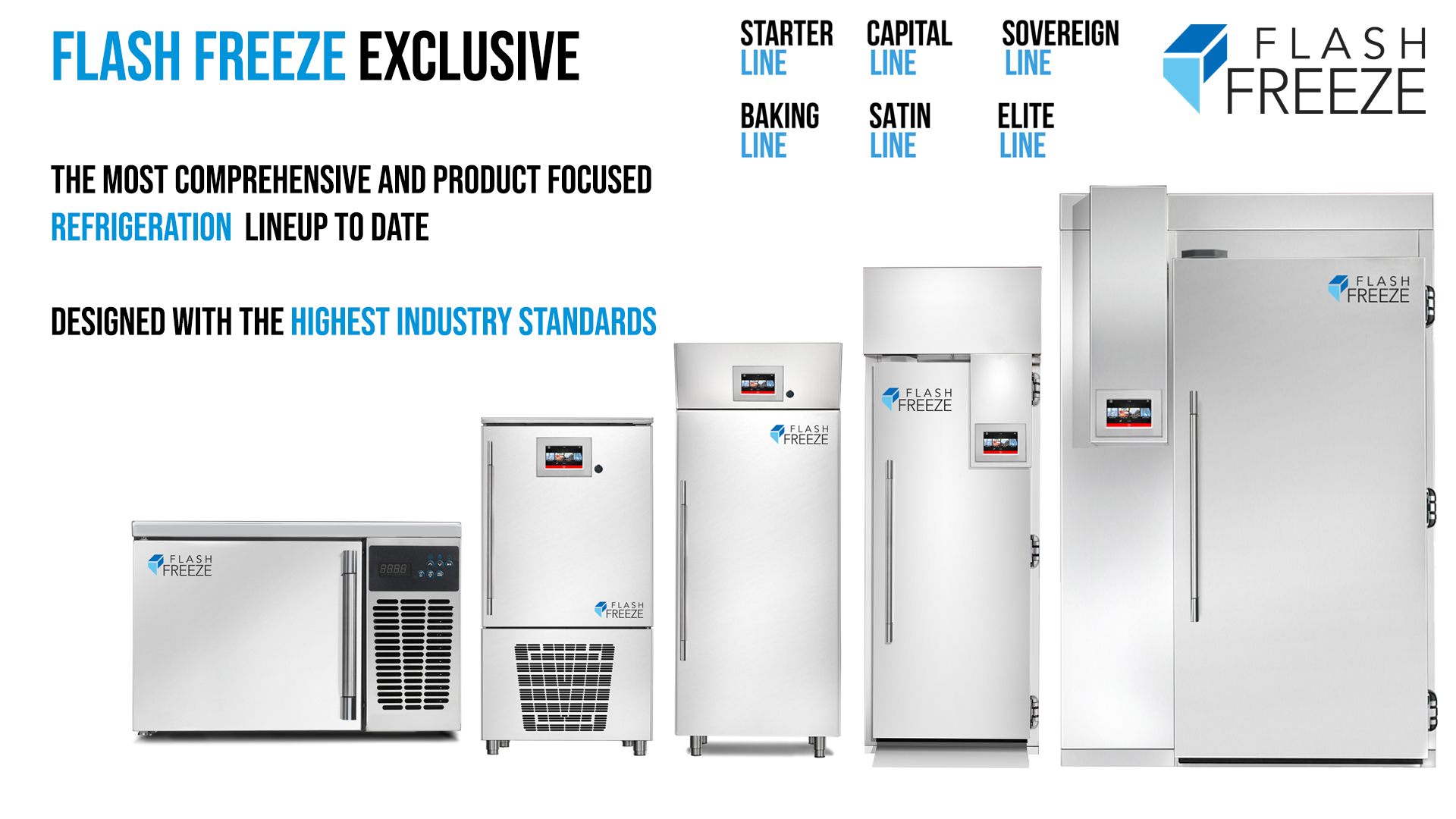 Our Exclusive Blast Freezing Line comes with machines that are designed specifically to excel at handling certain products. The Flash Freeze Exclusive Line Includes :
Starter Line :
Simplistic, Functional and Economic. The Starter Blast Freezer Line is the perfect choice to help you hit the ground running with developing your business.
Capital Line :
The Capital Blast Freezer Line is a specialized line designed specifically for gastronomy, pastry and ice cream. Each unit comes with simple and intuitive controls complete with HACCP functions.
Sovereign Line :
The Sovereign Blast Freezer Line is the perfect choice if you are looking to freeze larger quantities of inventory in short periods of time.
Baking Line :
The Baking Blast Freezer Line is the premier line for all your baked goods and products. From yeast blocks to storage, awakening, proving and maintenance, this is definitely a go to unit for all your baked freezing needs.
Satin Line :
The Satin Blast Freezer Line excels at temperature and humidity control making its accuracy and reliability one of the highest in the market. These features make it an ideal choice for chocolates and other sweet and delicate products.
Elite Line :
The Elite Line is our most advanced blast chiller and blast freezer line. It features a wide variety of multi-functional machines that are capable of freezing an extremely wide range of products, ranging from meats to pastries to breads and more!
Flash Freezing: How to buy a Flash Freezer?
If you need assistance choosing a specialized blast freezer that can give you the edge needed to push you ahead of your competitors and provide you with the best freezing technology has to offer, then feel free to reach out to us. Our Freezer specialists are happy to help you choose a blast freezer that is best suited for your business and its needs. Please feel free  to contact us via our  contact page , through our blue mail toggle, or feel free to contact us directly via support.en@flash-freeze.net