Flash Freezers: ReJoice Line Up & Specs!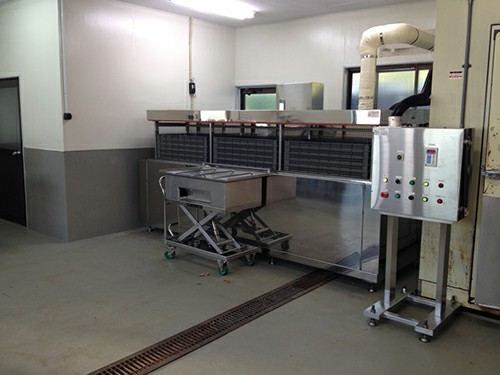 Our ReJoice Flash Freezer Line Up
Our fastest freezer that we have available and one of the fastest freezers available in the market today, our ReJoice freezer, is a liquid based freezer that is able to flash freeze food, ingredients, and other products faster than most other blast freezers or liquid freezers in the market today. Below the chart showcases all the current Rejoice Flash Freezers that we have available. There are a current number of 8 different Rejoice models to meet with the various necessities all of our clients have for their business.
Numbers

1

2

3

4

Model

RF-2

RF-10

RF-10L

RF-50

Utility Specifications

0.2W×1

0.4W×1

1.5W×1

External Dimensions W
(mm)    D
H

720
620
1200

1,260
820
1,265

1,280
965
1,750

2,270
1,200
1,760

Freezer Capacity

600w
scroll mini

2.2kw(3HP)
scroll mini

7.4kw(10HP)
scroll

Alcohol Ammount

55 liters

190 liters

670 liters

Freezer Weight(Kg)approximately

160

310

445

1,500

Process Speed

2kg/hr

10Kg/hr

50Kg/hr

Total Capacity

1φ×100V/0.8kw
10A

3φ×200V/2.6kw
20A

3φ×200V/9.0kw
50A
No

5

6

7

Model

RF-100

RF-200

RF-250

Utility Specifications

0.75W×2

1.5W×2

2.2W×2

External Dimensions W
(mm)    D
H

2,980(+650)
1,350
2,440

3,800
1,650
2,400

4,860(+700)
1,580
2,400

Freezer Capacity

15kw(20HP)
Scroll

22kw(30HP)
RSU-R2 stage

37kw(50HP)
RSU-R2 stage

Alcohol Amount

1,700 liters

2,300 liters

3,600 liters

Freezer Weight(Kg)approxiately

1,600

3,100

3,600

Process Speed

100Kg/hr

200Kg/hr

250Kg/hr

Total Capacity

3φ×200V/16.5kw
75A

3φ×200V/25kw
125A

3φ×200V/43kw
150A
ReJoice Overview
We hope you found the chart above useful. As you can see, there is a wide variety of Rejoice freezers to meet our diverse client list from small business owners to large scale corporations. But, besides the size and overall capacity of all the different models available, the core Flash Freeze Technology that makes our freezers stand out from other freezers in the market are still in each and every model.
Whichever model you may choose for your business, please be assured that it will be the fastest freezer you can currently get in the market that will properly freeze your products without damaging or changing them.
if you are interested in one of the models listed above, click the image below to see a general idea of what our Rejoice flash freezer can do for your business.