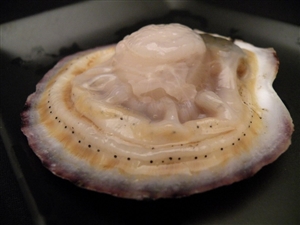 Picture Source:http://www.zatugakuou.blog.so-net.ne.jp/
Flash Freeze Scallops
This time, we used the air based flash freezer and liquid based freezer to flash freeze test scallops. Before we get into the results of the tests, let us introduce the delicacy and importance of scallops. Scallops are a popular part of Japanese cuisine and are consumed in large quantities by the population. Scallops are popular not only with indigenous people but also with foreign cuisine, with them being used in many international and continental dishes. Why, even the famous artwork "Venus" used this ingredient as a symbol of fertility at birth! These common two shelled fishes do not have eyes, but scallops come with eyes on. The black dot that is located in the line up on the edge of the shell are the eyes. Some come with up to 80-100 eyes! What an eye opener! As mentioned above, Scallops see use in a variety of different cuisines. Scallops are sweet and supple, and because of their soft texture, they are used in many dishes such as Sushi and Sashimi. They can also be butter sautéed, fried or even served in soup! The Nutrient Information for these delicious Scallops is as follows:
Nutrient Information
Approximately 4 oz(100g)
| Calories | 100 |
| --- | --- |
| Content's Water Percentage | 74.2g |
| Protein | 20.8g |
| Sugar | 2.4g |
| Fat | 0.8g |
| Taurine | 800mg |
| Sodium | 488mg |
| Phosphorus | 130mg |
| Iron | 1.2mg |
| Calcium | 18mg |
| Vitamin B1 | 0.04mg |
| Vitamin B2 | 0.1mg |
| Vitamin C | 3g |
As seen in the list, the water content is at 74.2%, and is low for fishery seafood. There is also a large concentration of taurine which is great for a quick energy recovery! With 800mg per shell, one is enough to cover the daily amount for adults. Here are the results of the test freeze. We have test frozen the scallop with both air based flash freezer and our liquid based flash freezer. This experiment was also done at the Mita Exhibition Hall. Scallop is a seafood, and as such, we expected the liquid based freezer to yield the best results as it has many feats and accomplishments in terms of seafoods and fisheries. However, upon testing, we found that for this particular purpose, the Air Based Freezer provided the best results.
Flash Freeze Testing Results
"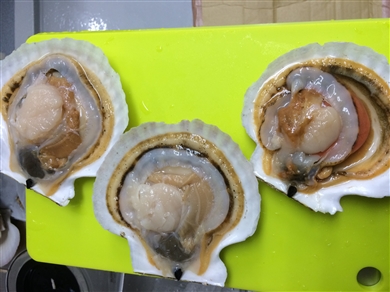 Not only did the scallop flash frozen with the air based freezer have no moisture loss, but it also managed to keep the same soft texture as the prefrozen fresh state. Additionally, according to a flash freeze specialist, by prepping a bit more before flash freezing and changing the defrosting method, the quality of preservation can be improved even further!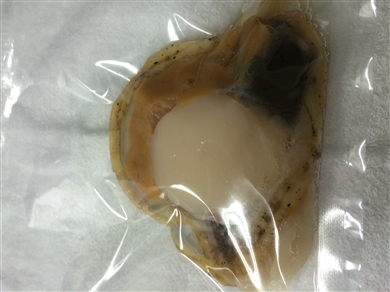 While in most cases, the liquid based flash freezer is the best choice when it comes to seafoods, there are exceptional cases like this.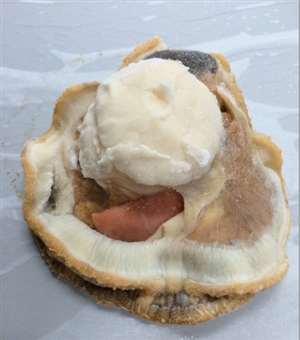 ↑Air based frozen content
Therefore, it is recommended to test out ingredients by test freezing before purchasing a flash freezer. The Mita Exhibition Hall which I have visited this time, is actually the only place in Japan where comparison between multiple flash freezers is possible. For information on each of the flash freezers, please visit the link below! For those who are interested in the air based freezers, our Freezer line is recommended.