Prevent Freezer Burn: Business Edition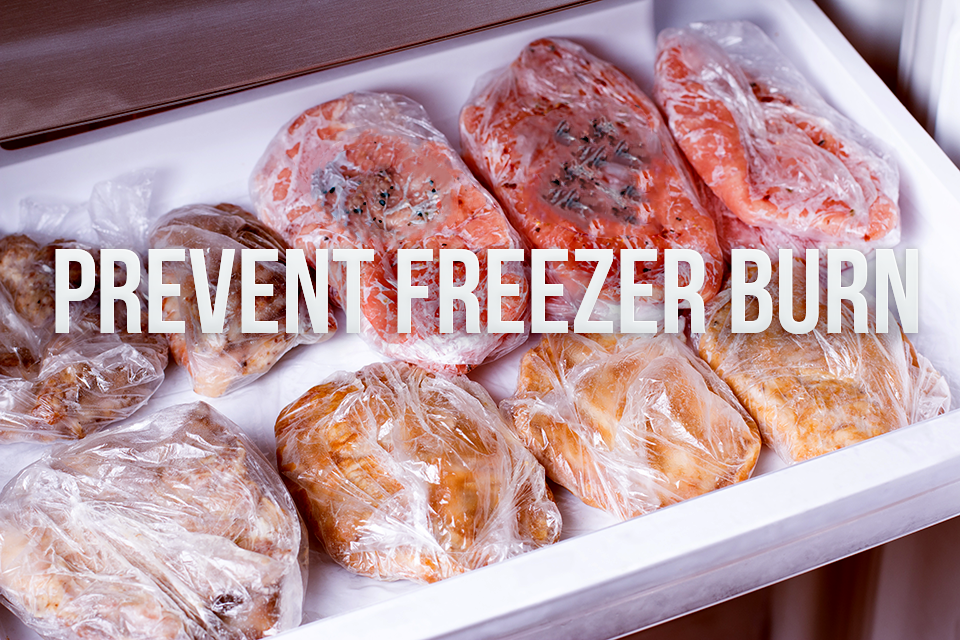 About Freezer Burn
When it comes to freezing products for long periods of time there are various aspects that you need to take care of as a business owner.
As a business owner that focuses on food distribution, you will want to store freeze your food from time to time to keep it ready for the next customer that comes and purchases your product. In turn, you may experience freezer burn if the food is stored for a prolong period of time.
First and foremost, what is freezer burn? Well, freezer burn is when food is kept in a freezer for a long time and moisture is absorbed due to the exposer of air within the freezer. Regular freezers constantly are cycling outside air within the freezer, increasing the hot air and mixing with the cold air, causing the water molecules in the food that is being frozen to create large ice crystals. These extra-large crystals raise to the surface of the food then when the hot air enters the freezer it removes the ice crystals, effectively taking water away from the product that is being frozen.
Now, freezer burn food is safe to eat, but after a long time of the food being in the freezer burnt state, the food will eventually become tasteless. And if you are a business that is selling seasonal products and is looking for a along term storage solution, just getting any regular conventional freezer and just freezing the products could cause freezer burn. Providing your customers with tasteless and poorly preserved products could cost you not only the sell, but loss loyal customers, new potential customers, and negatively affect your overall sales and profits.
Now, is it possible to prevent or avoid the food you want to freeze to not get freezer burnt? There are home solutions as well as a business solution.
Preventing Freezer Burn
Now that we know how freezer burn can negatively affect the food you freeze and leave you with a tasteless byproduct, let us consider the solutions to freezer burn. There are several ways to prevent, or avoid freezer burn. There are solutions available for regular home freezers and of course ways on how a business can prevent freezer burn to occur in the products they want to store and distribute to their customers.
Home Solution
For home owners that want to extend the time that they can freezer their food before it starts to get freezer burnt, there are a few ways to extend the time you can freeze your food at home if you follow the following steps.
Freezing Solid-type food you typically do not want the food (like meat, fish, vegetables) to be directly being hit by the cold fronts in the freezer. Placing the food in some sort of container will not stop the freezer burn affects, but will slow it down the affects as there is little space for air to directly hit the food or you can also use a plastic bag while the food is wrapped in aluminum foil of some kind.
One of the most important parts to remember when placing food in a container or bag is to ensure that the food is well wrapped and also to make sure air does not directly come in contact with the food. This method will allow you to freeze the food for an extra week before the food starts getting freezer burnt.
Now, please keep in mind that at the end of the day regular home freezers are not made to make sure your food is stored for months at a time. Please keep in mind the limitations and freeze your food accordingly.
Now if you are running a business, I am sure you do not have time to wrap and freeze each and every product to only have it been stored for an extra week. In this case, you will need to look at other solutions.
Permanent Business Freezer Burn Solution: Flash Freezing
Now that we looked over the process of reducing the onset of freezer burn using home freezers, let us take a look at how a business can freeze and store their products for a long period of time and not get freezer burn on their products. Even with the home solution that is noted above, drip loss is still present and this affects the products texture and flavor negatively. That means businesses have two things to worry about every time they freeze store their products. But, there is good news,business owners can find freezing equipment that is able to not only prevent freezer burn, but greatly lower drip loss of the frozen products, maintaining the frozen product's original flavor texture and moisture.
We are going to introduce 2 freezers known as flash freezers. These freezers are able to quickly freeze products while still maintaining the products original texture and flavor via their special flash freezing technology.
ReJoice Freezer
Next is one of the fastest flash freezers is the Rejoice freezer line. This special freezer uses alcohol brine freezing to flash freeze products at incredible speeds. Now, all the products that are frozen in the freezer do need to be packaged, but with the speed that the products can be frozen, it is worth it for those that really need speed out of their freezers but do want to keep drip loss low and prevent freezer burn.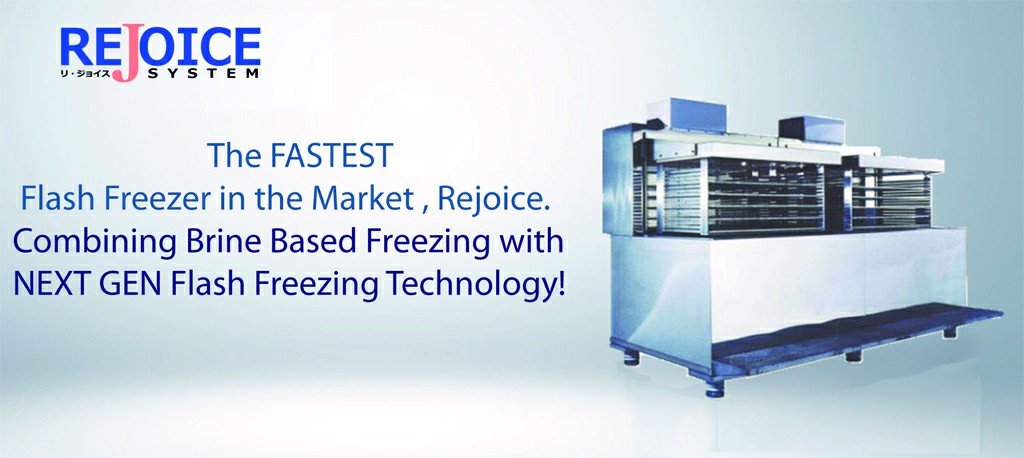 ReJoice freezer features:
– High-quality freezing
– High thermal conductivity and short freezing time
– Evenly freeze all products from all sides
– Easy set-up and processing management
– Design and size variety available
– Maintain frozen contents original freshness
– Experience the fastest flash freezer in the market
Artlock Freezer: Flash Freezing Technology
First up is our most popular flash freezer, our Artlock freezer line. The freezer is a special blast freezer that uses special 360 degree flash freezing technology which circulates cold fronts within the freezer and makes sure that outside hot air does not come in the freezer throughout the freezing process. Since the cold fronts are hitting contents from all sides, this allows the contents that are in the freezer to be evenly frozen. This method also ensure that the crystallization of the cell wall is controlled, creating a protection wall of sorts that prevents water to be leave the contents while it is being frozen.
Artlock freezer features:
– 360 Degree Freezing: Freeze the content's surface from all sides at the same time.
– Frozen contents will maintain original texture and flavor.
– No ice buildup in the vents for easy cleaning. Guaranteed.
– Freezer models customizable to fit your company needs.
If you are interested in our Artlock freezer or ReJoice freezer line, we would be more than happy to answer any questions that you may have.
Please feel free to contact us via the blue mail toggle, contact page, or you are more than welcome to contact us directly via [email protected]