Freezing Seafood using IQF Technology
Individual Quick Freezing: The Answer to Seafood Preservation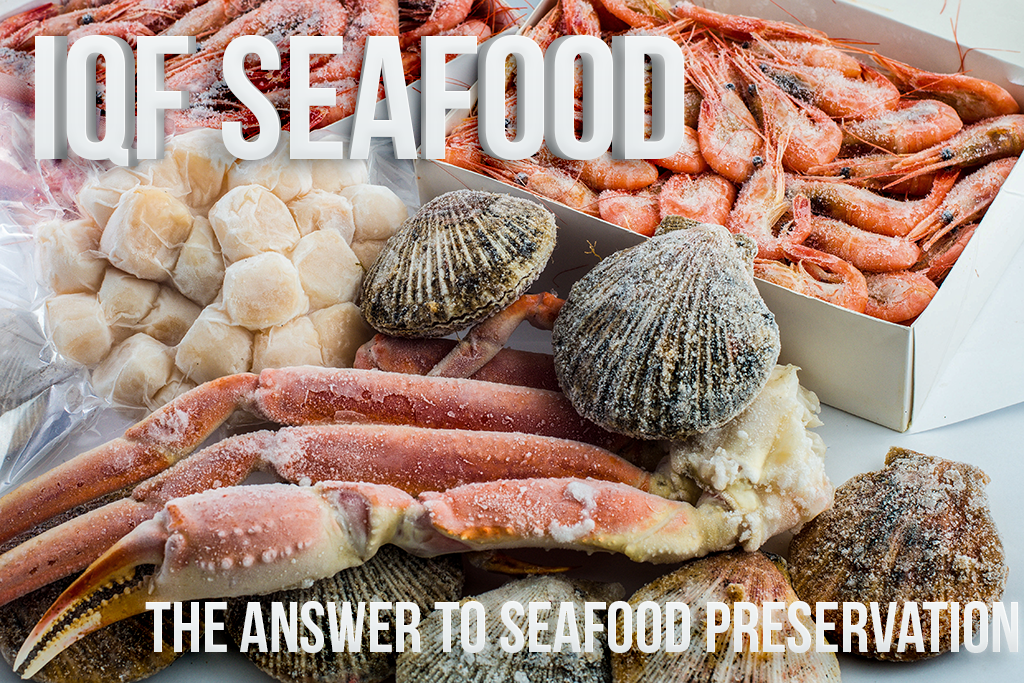 Individual Quick Freeze: IQF Seafood Demand
When it comes to sea food, we all expect fresh and high-quality produce. However, this is not often the case. With demand for fresh sea food increasing every day, businesses are facing increasing difficulty in acquiring sea food at the quality expected by the customers.
A lot of customers look to flash freeze their sea food inventory for long periods of time to keep themselves stocked and ready to meet demands. However, this is not very effective as the quality of the sea food reduces greatly with normal methods of refrigeration.
Individual Quick Freezing (IQF) helps maintain the fresh quality of sea food while minimizing drip loss. With Individual Quick Freezing, the cell destruction that is caused during the process of refrigeration is minimized thereby maintaining the flavor and texture of the product, even after defrosting.
Availability of Fresh Seafood
While the demand for fresh sea food increases, businesses are faced with an increasing and ever-growing problem; a shortage of actual fresh sea food. While businesses that are located near the cost usually have the ability to have access to fresh sea food, this is not the case for businesses that are located inland.
So how are seafood businesses that do not have the luxury of being located close to the sea side supposed to manage the demands of their consumers and match their standards?
The answer is IQF. With individual quick freezing it is possible to maintain high quality while also flash freezing the seafood individually. This prevents, clumping, discoloration and drip loss.
How you can implement IQF
When businesses try to make a shift towards IQF, there is often a concern. It involves dealing with a newer and unfamiliar technology. But that shouldn't be a cause for worry. Technology always helps improves our lives, and embracing newer more advanced methods of food production and preservation will definitely help improve the productivity and efficiency of your business.
Given that this is often uncharted territory, let us help you understand how you can implement IQF to freeze your seafood inventory.
Our IQF 3D Freezers:
We here at Flash Freeze have our own specialized 3D IQF Tunnel and Spiral Freezer line up. Both of these IQF freezers come with high customization options as well as world class freezing quality and service capabilities.
Let us introduce our 3D Tunnel and Spiral Freezer lines to you.
3D IQF Tunnel Freezer
Our 3D IQF Tunnel Freezer is an advanced version of our 3D freezer line that has the same advanced freezing technology on a much larger scale to meet the growing demand of business professionals that they face with their growing customer base and increase production of their products. To give you an idea of how our IQF 3D Tunnel Freezer differs from the rest, we are going to outline some of the features.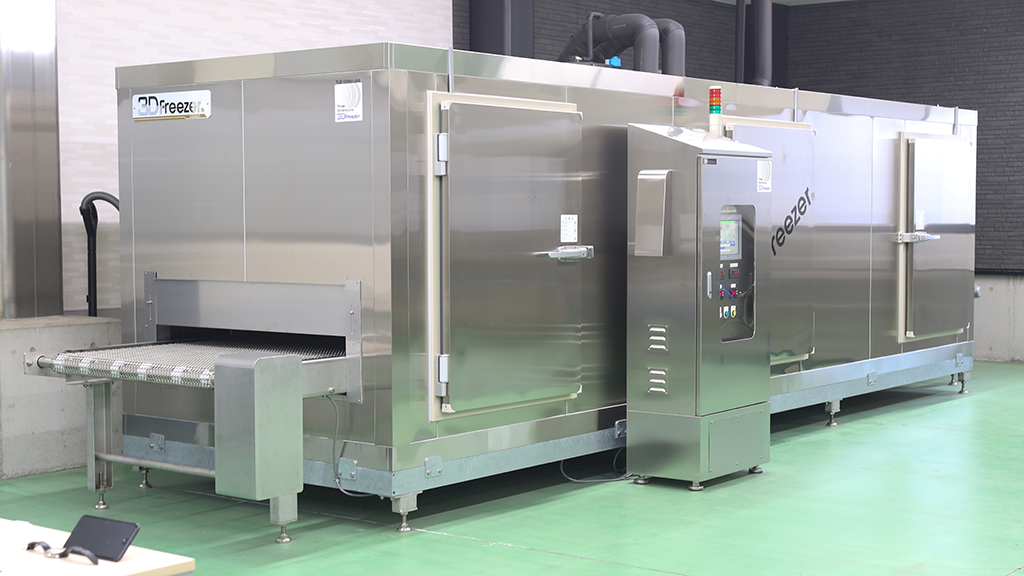 360 Degree freezing to freeze all surfaces of contents being frozen
    Frozen contents will maintain original texture and flavor
    No ice buildup in the vents for easy cleaning and easy use
    24 hour freezing
    Tunnel freezer model size customization
    IQF and BQF capabilities.
    Benefit of Continuous production with little labor costs!
Our IQF Tunnel Freezers are also able to freeze cooked products that are at high temperatures of up to 90 degrees Celsius (194 F) with no pre cooling necessary, thereby eliminating freezing slowdowns. This is due to the continuous circulation of air within the freezer and no intake of additional hot, outside air. By ensuring continuous inner air freezing capabilities, products will be frozen quickly and efficiently each and every time!
3D IQF Spiral Freezer
The IQF Spiral freezer design of most manufacturers are usually built to preserve space and minimize the freezers footprint in your freezing space. Our spiral freezers can freeze large amounts of content on a limited space. This allows high freezing capacity while still maintaining continuous freezing with limited man power needed. To have a better idea on what types of features to look for when purchasing a spiral freezer, below is the list of features found in our very own IQF 3D Spiral freezer.
Features
360 Degree freezing which secures content's entire surface will be frozen in a faster and more efficient way.
Frozen content's will maintain original freshness, texture, and flavor of products that are frozen within the spiral freezer every time
No ice build up for continuous use and easy clean up process
Continuous freezing!
Our IQF Spiral freezers are size customizable!
With our spiral freezers design can accommodate capabilities and size customizability, you will now not only be able to maintain your products original freshness, texture, and rich flavor, but you will be able to speed up your freezing capability, allowing you to increase production and inventory storage time.
We would love to give you more details regarding our spiral freezers, tunnel freezers, or compact batch style freezers, that is why we encourage you to contact us at any time either by blue mail toggle,contact page, or you are more than welcome to contact us directly via our email address via [email protected] We would be more than happy to help business professionals find the right spiral freezer for your growing business.