Best Blast Freezers for Home and Commercial Use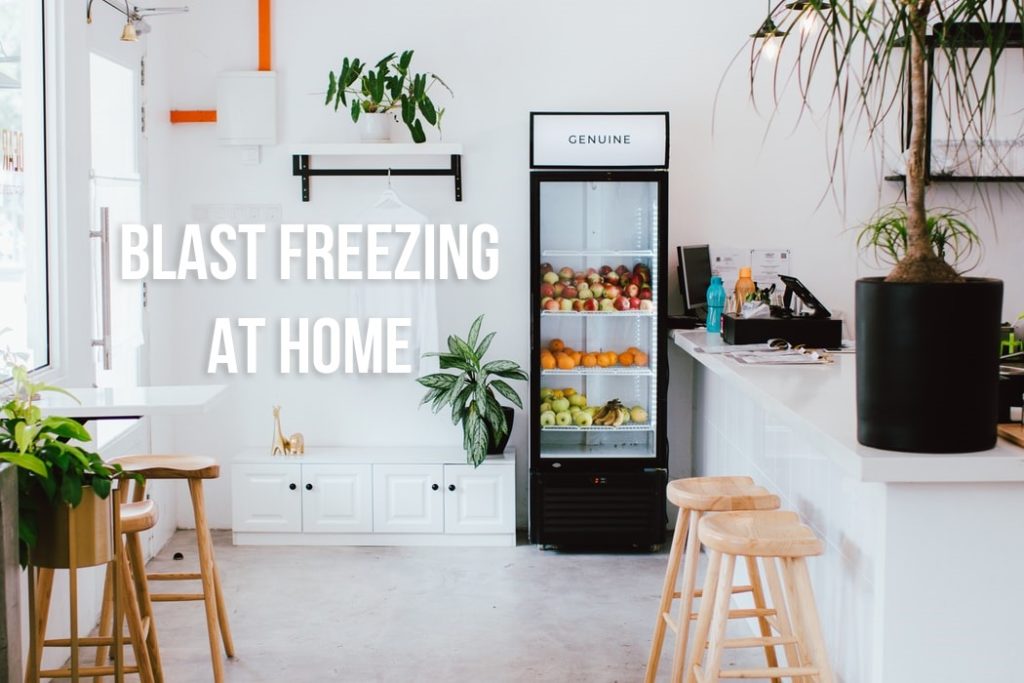 What is Blast Freezing? 
Blast Freezing is a modern way of freezing food, mainly focused on swiftly freezing the product, while managing to maintain perfect retention of moisture, flavor, quantity and most importantly texture. It executes this using high speed internal cooling methods. This is done by rapidly cooling down the internal temperature in the freezer. This makes it much easier to ensure potent cooling, with minimized damage, caused to the cells within the product.
Benefits of Blast Freezing :
Even though it is a big investment, it is most definitely worth investing into a Blast Freezer. The benefits of Blast Freezing are multiple, but can be easily divided into several subcategories, specific but not limited to :
Minimizing Drip Loss
Increasing Output
Reducing Electrical Expenses
Drip loss:
Drip Loss is the process which causes the loss of internal moisture of the products and in general the weight while being defrosted. When the products lose their mass through drip loss, their weight decreases and this in turn leads to loss through reduction of inventory weight.
Reducing drip loss is a priority for any producer hoping to efficiently make use of their inventory with minimal loss. Depending on the product being frozen the percentage of drip loss varies significantly. As such it is in businesses' best interest to have a machine that is capable of reducing drip loss sufficiently. Our Blast Freezer can achieve just that.
Increasing Output:
Often regular freezers tend to build up excessive frost, which results in there being a need for maintenance worry every few hours. Blast Freezers are capable of long running hours and ensure batch freezing in a short time span. Furthermore it allows for an increased and reliable rate of production.
Electrical Expenses:
Blast Freezer lines are incredibly energy efficient.
They are able to freeze large quantities or products, in short periods of time, while still managing to save up money.
Our Blast Freezer lines are capable of providing you with 30-50% increased savings, of course depending on the model, product and quantity.
Maintaining Cellular Integrity : 

At Flash Freeze, we realize that in order to make the best out of frozen foods, certain thresholds need to be met.
When it comes to Flash Freezing food , that threshold is the ice crystal formation zone. The sooner and faster a product passes this threshold, the better. Our Blast Freezer Line is able to create finer ice crystals, which results in freezing with bare minimum damage to the cell structure of the food. The longer it takes the ice crystals to form, the bigger they become and the more damage is caused to the cells within the product.
Blast Freezers ensure that food bypasses this threshold incredibly fast so as to cause minimum damage and keep texture and flavour.
Introducing the Exclusive Blast Freezer Line:
If you are in the market for a specialized Blast Freezer or Blast Chiller Line that is specially designed with various applications and price points in mind, then look no further than the exclusive Blast Freezing Line.
Looking for more information on Blast Freezing? Feel free to check out the Blast Freezing/Blast Chilling Line.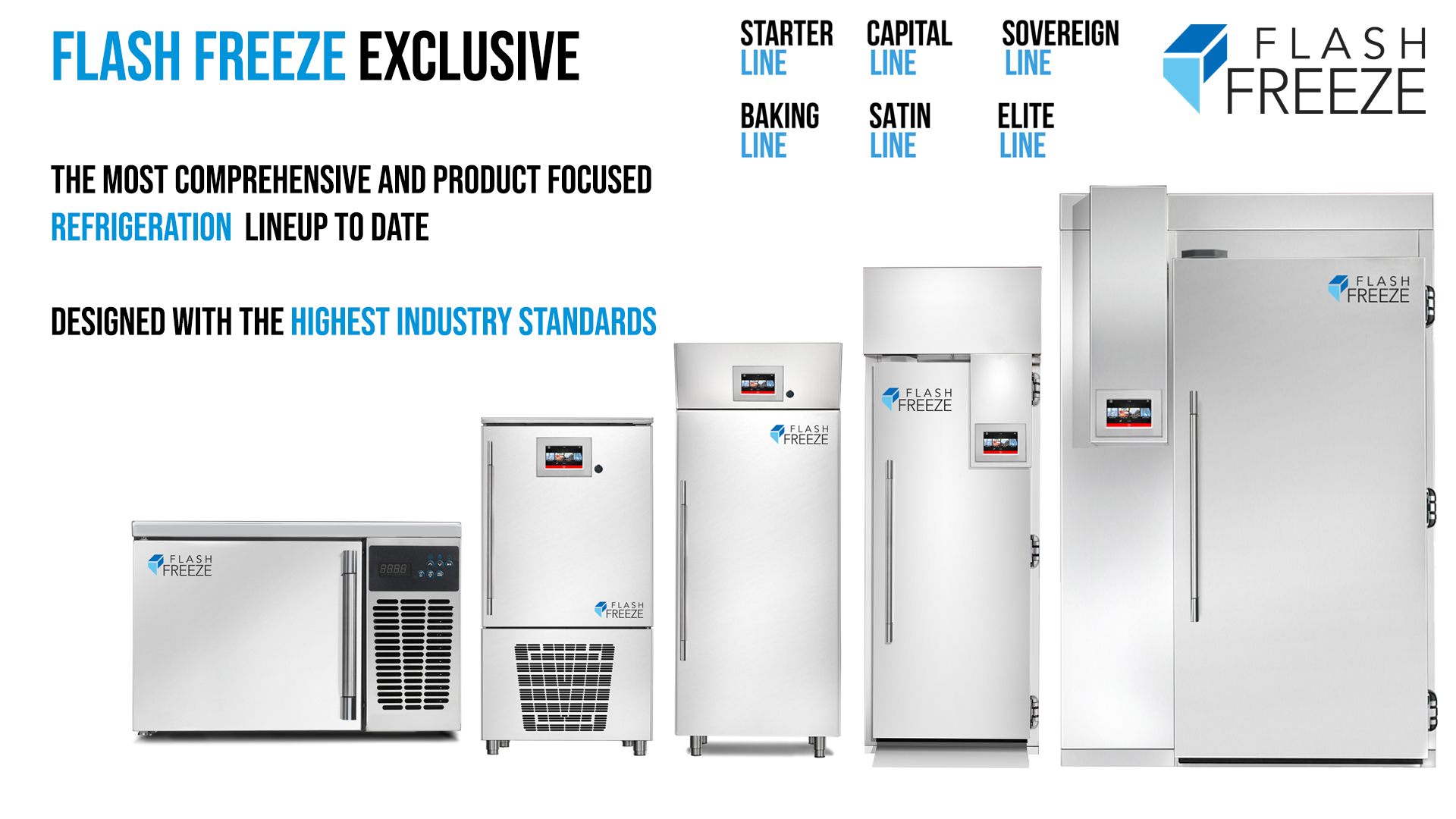 Starter Line :
Simplistic, Functional and Economic.
The Starter Line is the perfect choice to help you hit the ground running with developing your business.
Simple, yet includes several functions of other models of Blast Freezer lines. It includes several options, such as HARD or SOFT cycles, timed or personalized. It also includes a full range of settings and storage alarms.
The Starter Line includes a couple of different sizes to match your needs.
Capital Line :
The Capital Line is a specialized line designed specifically for gastronomy, pastry and ice cream. Each unit comes with simple and intuitive controls complete with HACCP functions.
This line of Blast Freezers has a wide range at affordable prices. It is equipped with convenient and responsive controls with HACCP functions.
As this Blast Freezer line is mainly for pastry and ice cream, we have designed Cabinet Freezers, which contain trays, vaschette and ice cream tubs.
Sovereign Line : 
Modern and comprehensive Blast Freezer Line.
The Sovereign Line is the perfect choice if you are looking to freeze larger quantities of inventory in short periods of time.
Equipped with internal diffuser, which provides indirect ventilation.
The standard equipment of this Blast Freezer includes 5 pairs of slides and 5 shelves. Upon request LED lightning and wheel kit can be included.
Baking Line :
The Baking Line is the premier line for all your baked goods and products. From yeast blocks to storage, awakening, proving and maintenance, this is definitely a go to unit for all your baked freezing needs.
Just like our Sovereign Blast Freezer Line, the Baking Line is also equipped with modern, intuitive and comprehensive touch controls. It provides you with great humidity control and accuracy and reliability in temperature. The Humidity is produced by a steam generator, which can be easily accessed through the control board.
This line is also designed with conveyors and 20 L shaped slides. The Conveyors main purpose is to achieve a consistent air flow circulation.
Satin Line : 
The Satin Line excels at temperature and humidity control making its accuracy and reliability one of the highest in the market. These features make it an ideal choice for chocolates and other sweet and delicate products.
Designed with excellence and precise attention to detail to preserve the delicacy of the products, this Blast Freezer Line is equipped with indirect ventilation. The Blast Freezer ensures high power and outstanding performance. Equipped with comprehensive touch controls, as well as temperature and humidity control.
Each Blast Freezer comes with 20 pairs of L shaped slides.
Elite Line :
The Elite Line is our most advanced Blast Chiller and Blast Freezer Line. It features a wide variety of multi-functional machines that are capable of freezing an extremely wide range of products, ranging from meats to pastries to breads and more!
This Blast Freezer has many functions. Some of them are:
De-icing: Provides better control and management of frozen food awakening.
Drying: Prevents mold and odours, while still protecting internal components after use.
USB: Blast Freezer is equipped with USB as to download HACCP – related data, updates, programs and alarm functions.
There are many more functions, which make the Elite Blast Freezer Line a must have if you are looking for an advanced and multi – functional machine, capable of helping your business or enterprise reach new heights and stand out from the rest of the competition.
Should you invest in a Blast Freezer? 
Blast Freezing is an investment. But it is an investment that will definitely pay off. If you wish to push your business forward and make a mark in the industry with technology that sets you apart from your competitors, then Blast Freezer is definitely the way to go.
Our specialized Blast Freezers can help you get there.
We at Flash Freeze are always happy to help you with choosing the product best suited for your business. Feel free to contact us at any time.