Tunnel Freezer : Specialization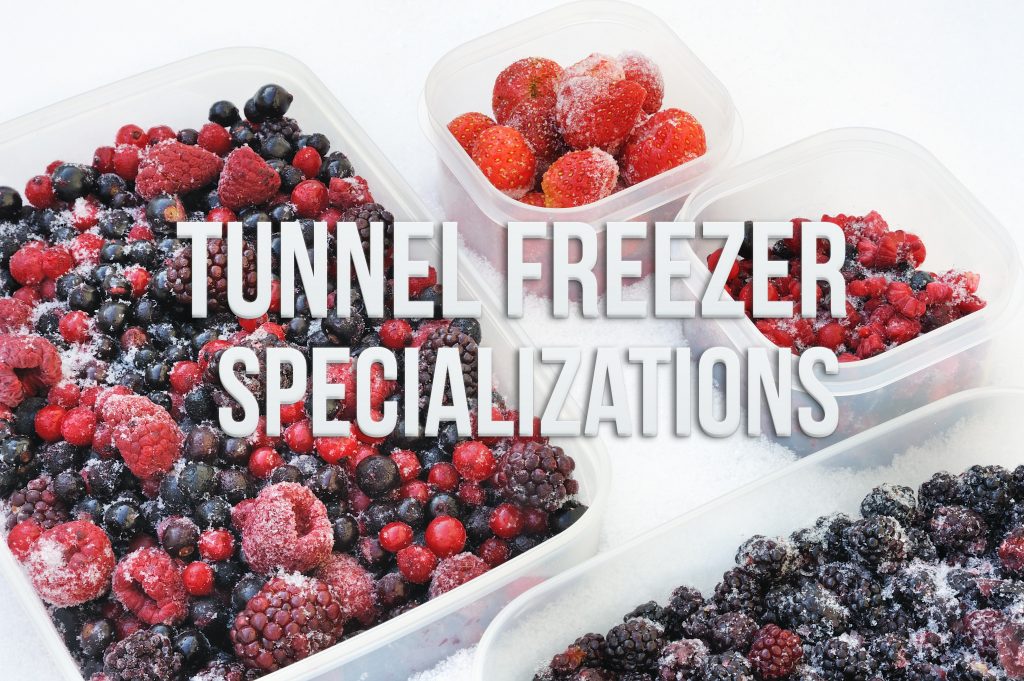 A Tunnel Freezer is a specialized freezer that is capable of rapidly freezing and handling large amounts of food for production and storage. But what exactly makes a tunnel freezer stand out? What sets it apart from the rest of the freezers available on the market. In this article, we will take a look at the various features that make a tunnel freezer different from a more common commercial freezer and also introduce our specialized  Tunnel Freezer.
Comparing statistics : Tunnel Freezer vs Commercial Freezer
Reduction in Drip Loss : Tunnel Freezer
Drip Loss is the process by which food loses its texture and internal moisture upon defrosting. Often, when regular or inefficient freezers are used to freeze food, there is substantial internal damage to the cellular structure of the product. This causes the food to lose its weight and texture in the form of drip loss. This is a major issue for a lot of businesses because this leads to massive loss of inventory and reduction in product quality.
However, through the process of Flash Freezing, we are not only able to prevent drip loss but also minimize cell wall degradation. As such, it is imperative to consider the implications and impact of driploss on food production and the benefits a tunnel freezer can provide to help reduce it.
Higher amounts of driploss lead to significantly lower quality . In addition to this, drip loss also results in much of the produce being thrown away due to deterioration.
Increase in Energy Efficiency : Tunnel Freezer Vs Commercial Freezer
In terms of energy efficiency, tunnel freezers have the ability to save more electricity due to their ductless structure. Our  Tunnel Freezers in fact boast between 30-50% increased energy saving capabilities.
Introducing the  Tunnel Freezer :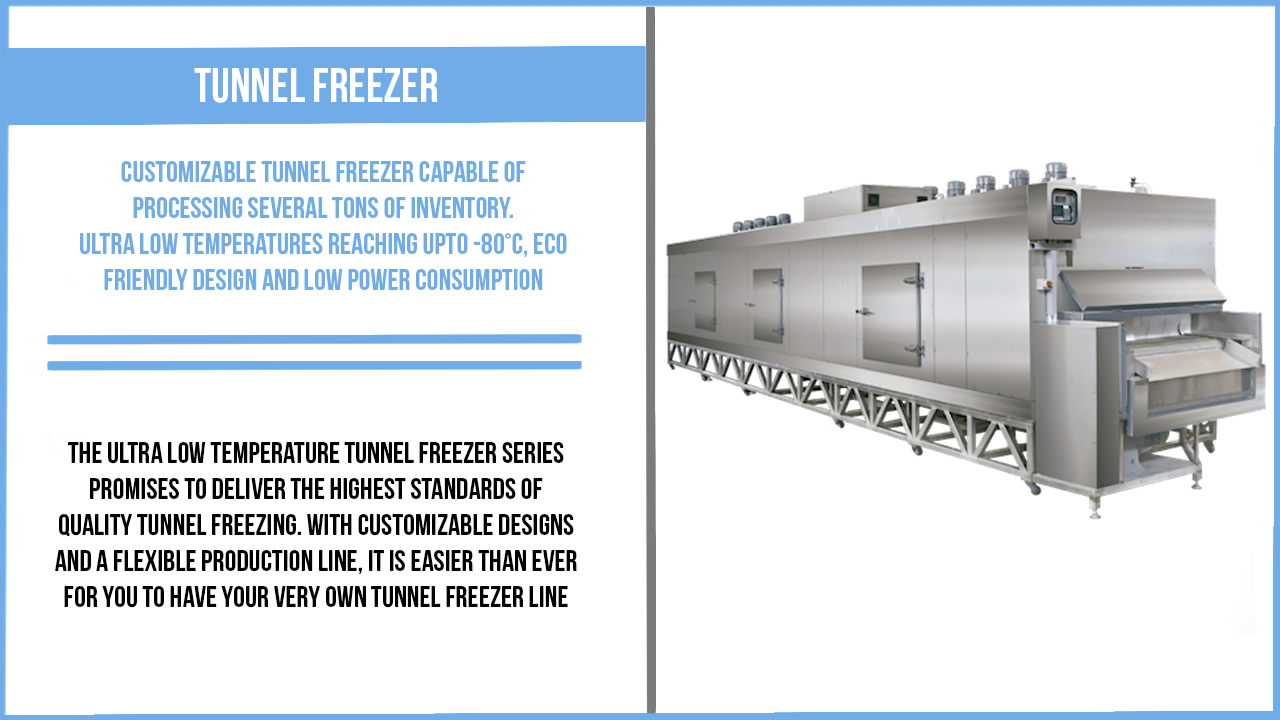 San Wang is Taiwan's Top Manufacturer of Tunnel Quick Freezers.
We can provide you with a list of Ultra-Low Temperature Tunnel Rapid Freezing Systems at – 80 ℃.
All tunnel freezers are tailor-made to meet all your needs.
Features of – 80 ℃ Ultra-Low Temperature Tunnel Type Rapid Freezing System Include:
Ultra-Low Temperature! Can reach – 80ºC!
Low Power consumption, energy saving
Uses High Quality Stainless Steel for easy cleaning
Customized models, lengths and features for various users
Increase in Production : Tunnel Freezer Vs Commercial Freezer
Most freezers in the market have short operating hours and have to be shut down a couple of hours. However, the tunnel freezer is capable of running for upto 16 hours, non stop. This greatly reduces downtime and helps make production much faster and business extremely efficient. It also greatly helps to reduce cost!
Our Tunnel Freezers are also able to freeze cooked products that are at high temperatures of up to 90 degrees Celsius (194 F) with no pre cooling necessary, thereby eliminating freezing slowdowns. This is due to the continuous circulation of air within the freezer and no intake of additional hot, outside air. By ensuring continuous inner air freezing capabilities, products will be frozen quickly and efficiently each and every time!
Wrapping Up : What sets a Tunnel Freezer apart from the rest?
By implementing a tunnel freezer, businesses can choose to streamline their production, have longer operating times and even double or triple their production capabilities depending on the product. All the while saving on electrical expenses and preventing driploss. In addition to this, with the longer running hours, businesses have to shut down less often as they can maintain production without issue.
As a business owner, if you are looking for improving your product yield, while maintaining quality, texture, taste and maintaining inventory all year long, then look no further than the Tunnel Freezer. If your requirements do not require tunnel freezer scales, then do feel free to check out our  Freezer Line of specialized Blast Freezers.
Drawing Conclusions
If you would like to be part of the select few and want to make a noticeable impact in the field of your business, then look no further than our line of premium blast freezers. Our services boast the best freezing technology Japan has to offer. Please do feel free to purchase our Freezers to give your business and investment the boost it needs to push itself to the top of the market and show your customers what sets you apart. You can reach out to us via the Blue Mail Toggle or by visiting our contact page.