Tunnel Freezer and its Commercial Uses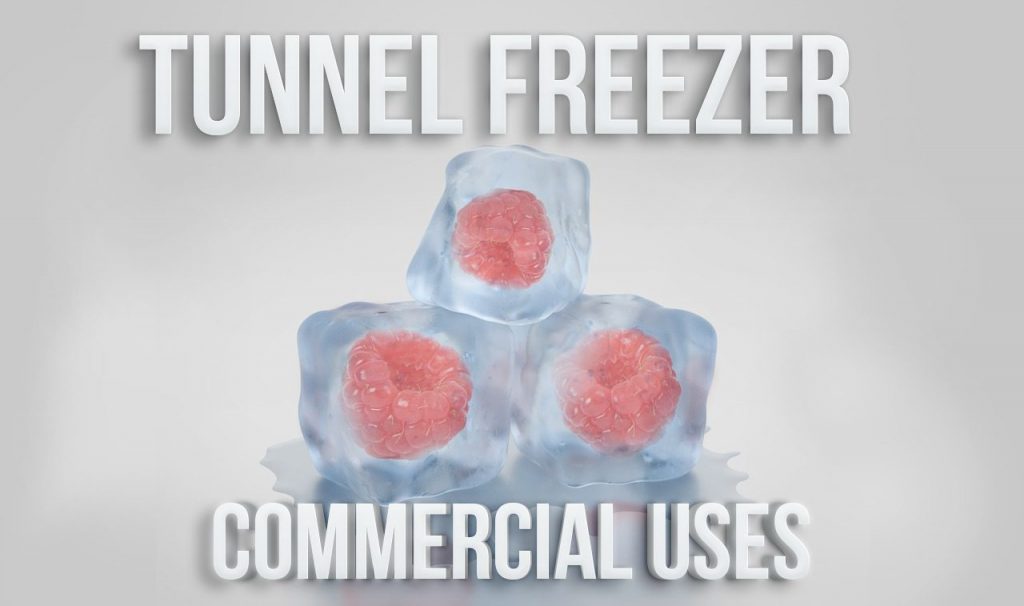 In recent years, tunnel freezers have been the go to choice for factories and manufacturers alike. With increase in demand for products to be available all year round, producers are under more pressure than ever before. However, it is not enough to just freeze the products. The freezing technology used has to be good enough to maintain the quality, taste and texture of the product. This is where tunnel freezers step in. 
While flash freezers are generally specialized freezers on a smaller scale, tunnel freezers bring both size and capacity as well as functionality. Flash freezers focus on freezing products in a way that ensures maximum retention of flavor, texture and quality. In terms of quality, flash freezers are unrivaled. However, most flash freezers are not capable of freezing products on an industrial scale. It was to meet this demand that tunnel freezers were developed. 
Tunnel freezers are specialized flash freezers that are capable of handling very large amounts of inventory at a time. In fact, most of the major food processing corporations around the world employ the use of tunnel freezers to maintain their stock all year round. 
In this article , we will go over the benefits of owning a tunnel freezer as well as look over some of the most common commercial uses for a tunnel freezer.
What makes it different?
When it comes to commercial freezers, what is it that exactly makes a Tunnel Freezer different? A tunnel freezer is a specialized flash freezer that is capable of freezing large quantities of produce in a much shorter period of time. A tunnel freezer is usually used in industries or companies that wish to freeze very large amounts of inventory on a regular basis. These are mostly industries or companies involved in the manufacture or processing and preservation of sea food, shell fish, meats, processed and prepared foods, etc.
This is what sets a tunnel freezer apart from the run of the mill commercial freezer. A tunnel freezer is able to deliver premium flash freezing power to large production and supply demands. Please feel free to read up on our Tunnel Freezer Specializations.
Investing in a Tunnel Freezer :
Investing in a tunnel freezer is a decision that requires careful consideration and a decent understanding of the technology involved in tunnel freezing. In the following lines, we will go over some of the features of our Artlock Tunnel Freezer, Ultra Low Freezer and follow it up with the benefits of using a tunnel freezer :
360 Degree freezing to freeze all surfaces of contents being frozen
Frozen contents will maintain original texture and flavor
No ice buildup in the vents for easy cleaning and easy use
24 hour freezing
Tunnel freezer model size customization
IQF and BQF capabilities.
Benefit of Continuous production with little labor costs!
Our Tunnel freezers are capable of delivering high speed rapid cooling to a wide range of products while maintaining extremely low electrical costs. This enables the  Tunnel Freezer to be extremely versatile yet eco friendly and power efficient. There is also a vertical variant of the Tunnel Freezer called Spiral Freezer . To know more about these differences, feel free to read up on our Tunnel Freezer Vs Spiral Freezer article.
Introducing SW Ultra Low Temperature Freezer :

SW is Taiwan's premier ultra low temperature freezer manufacturer.  Over the years, SW has earned a name for itself in the IQF and Tunnel Freezing Market. With Ultra Low Temperature  freezing upto -80 Degrees Celsius, you cannot go wrong with the SW Ultra Low Temperature Freezer. All tunnel freezers are tailor-made to meet all your needs.
Features of – 80 ℃ Ultra-Low Temperature Tunnel Type Rapid Freezing System Include:
Ultra-Low Temperature! Can reach – 80ºC!
Low Power consumption, energy saving
Uses High Quality Stainless Steel for easy cleaning
Customized models, lengths and features for various users
Boosts Rate of Production :
The tunnel freezer is structured in such a way that it is capable of constant production, with minimal down time. In addition to it being capable of handling large amounts of inventory, a tunnel freezer is capable of constant production. In fact, our Tunnel Freezer series is capable of running for up to 16 hours without needing to be shut down for cleaning or defrosting. This is especially beneficial when it comes to production as factories and manufacturers can substantially increase their output ten-fold.
In addition to all of this, our Tunnel Freezers are also able to freeze cooked products that are at high temperatures of up to 90 degrees Celsius (194 F) with no pre cooling necessary, thereby eliminating freezing slowdowns. This is due to the continuous circulation of air within the freezer and no intake of additional hot, outside air. By ensuring continuous inner air freezing capabilities, products will be frozen quickly and efficiently each and every time!
Their commercial uses : 
The commercial uses of tunnel freezers are many and varied mainly depending on the industry where the tunnel freezer is being used.
However, if we look at industrial data gathered from our own clients as well as comprehensive market analysis, we can conclude that the majority of the use for a tunnel freezer is seen in the food and manufacturing industry. Industries involved in the production and distribution of fresh water and salt water fish, packaged fruits and vegetables and a variety of meats employ the use of tunnel freezers to maintain inventory all year round. There are also IQF Tunnel Freezers that are capable of shaking the production line as the products are frozen to make sure that the individual products are always separated and do not stick to to one another. Tunnel freezers are also used to freeze products like cooked meals, pastries, processed foods such as fish paste and more.
Apart from these uses, tunnel freezers are also used to sometimes process medical equipment that needs to be maintained at a certain temperature as well as process industrial chemicals that are required to meet certain specific temperature thresholds.
Is a Tunnel Freezer worth the Investment :

The food preservation and the manufacture and processing industry has been known for its cut throat competition and constantly evolving nature. Because of this, the competition in this sector is particularly vicious. A difference of just a few percent can set companies miles ahead of competitors. The Tunnel Freezer and the Ultra Low  Temperature Tunnel Freezer has the ability to give your business the push it needs to set it apart and stand out from a crowd of competitors.
If you are looking for the means to ensure fast, quality freezing provided by the best in freezing technology to ensure the retention of flavor, texture and moisture of your products, then look no further.
We believe that our Tunnel Freezer Lines can get you there. Please contact us via the blue mail toggle, contact form, or you are more than welcome to contact us directly at [[email protected]]