How to order a Tunnel Freezer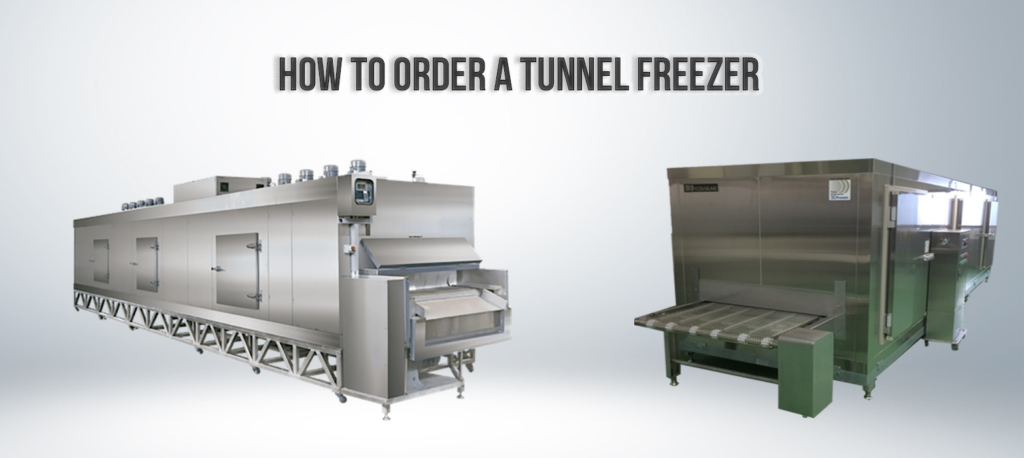 Defining What is a Tunnel Freezer.
When looking to expand your current production, you also need to think about expanding the amount of product you need to store and possibly extend the time it is stored in your facility before it is shipped and sold your loyal customers. To ensure a low labor cost, save space, and a lower running cost, most business professions tend to go with a continuous freezer. Some call it an IQF, others a continuous freezer, but for most they call these machines tunnel freezers.
If you are running an expanding business and want to ensure that the quality of your product is maintained, an advanced continuous tunnel freezer with flash freezing technology may be the right option for you. Now, before we dive into the dynamics of searching and ordering the right tunnel freezer model for your business, first let's define what a tunnel freezer is. We already have an in-depth article explaining what a tunnel freezer is and if you need more information about the dynamics of the type of Tunnel freezer we offer, please click here and have a look at our continuous tunnel freezer article.
A Tunnel freezer, like the name suggests, is a long freezer that looks like a tunnel which, in most cases has a running belt which is continuously carries food from one end of the freezer to the other. You simply add the products that you want to freeze in one end of the tunnel freezer and the belt with have your product enter the freezer and have the frozen final product come out of the other end of the freezer.
Now that we all know what is a tunnel freezer is and what it can do, let us dive into how you can order the ideal tunnel freezer for your business.
If you are interested in knowing how a Blast Freezer Business is established, feel free to read our article.
How to Order a Tunnel Freezer
Ordering a tunnel freezer is a bit more complicated than just clicking the "buy now" button. As we only work with the best tunnel freezers that produce the best flash freezing quality in the market, we focus on making sure that we provide a tunnel freezer model that is made specifically to best freeze your production. I have noted the five simple steps to order the best tunnel freezer that is made for your business.
Step One: tell us what exactly you want to freeze
One of the first steps to order a tunnel freezer is to tell us exactly what you want to freeze. This means that you specify which product you wish to freeze. What I see the most often in the 500 plus inquires we receive in a yearly bases is that most people just say that want to freeze a food category, " I want to freeze seafood items." Unfortunately, we need a bit more information. What seafood items are you looking to freeze?
Depending on the size, weight, and overall make up of the seafood you would like to freeze will change the average time of freezing and the quantity that can be frozen. When sending us information we will usually ask you the following questions for us to move forward with your inquiry and continue to the next step.
Example questions and answers from our questionnaire. 
Q: What products does your company want to flash freeze?
A: 3cm thick 10cm long salmon fillets.
As the size and type of seafood product is noted above, we can move forward with looking at the different kinds of power settings, freezing time, length, and overall power consumption that is necessary to freeze your product. Next, we need to know how much you plan to freeze in an hour span.
Q: How many kg per day does your company want to flash freeze?
A: Looking to freeze about 300kg per hour 8 hours a day.
After we receive this very important information, we can then move forward to the next step; ironing out the details and getting on call with a flash freezer professional.
Step Two: Set up a call with us!
In step two of ordering a tunnel freezer, we highly recommend to iron out all the details and confirm all the aspects of the tunnel freezer. With just a short 1 on 1 conversation with a freezer specialist that can help you as a business professional ensure that they make the right decision in getting the right Tunnel freezer that will make your production better and more efficient.
After the call we will send you a summary of the main points and move forward to the next step: going over machine specification and pricing.
Step Three: Confirm our recommendation including costs and pricing
After having a short conversation and consultation with the freezer specialist, the next step will be to confirm all documents that are sent to you and your team. When planning to purchase a tunnel freezer, understanding that there are various parts in terms of cost is very important. For a Tunnel freezer, it is not just buying a freezer and placing it in your facility. There are various parts of the tunnel freezer that must be coordinated between us and end user. With pipping work, construction, movement and facility management, understanding that costs will not all be included. We recommend to expect a 5% to 10% extra cost.
We will evaluate with you throughout the process from start to finish and will provide an expected cost on installation of the tunnel freezer. We do need cooperation with you in regards to sharing some facility information (size, available space, and facility illustrations) to ensure that the tunnel freezer model can fit and be used properly in your facility.
It will usually take about 1 week to finalize all the documents you will need to potentially move to the next step in the process; a demonstration and potential visit!
Step Four: Set up Tunnel Freezer demonstration and receive data.
After about a week of receiving all the information and having a 1 on 1 call with you, we will send you the estimated price of the tunnel freezer, shipping (FOB, FCA). If you are okay with the specifications of the tunnel freezer. Next, we would move forward with a demonstration of the tunnel freezer that is located in the facility where the tunnel freezers are made.
As we want to ensure that the tunnel freezer model you are inquiry fits your business needs, we made sure to allow all of the visitors to bring and flash freeze test any product that they want. We do not control the sample tests, you do. When you come and visit our facility for the tunnel freezer demonstration, we highly suggest that you bring or prepare samples to test in our tunnel freezers to see what results you can expect on the exact product you want to freeze using our tunnel freezer.
After the demonstration, we would then go over the specifications and details of the tunnel freezer that you have inquired about. We would then showcase the output you can expect, how to maintain the tunnel freezer, and more! After the demonstration, we would move on to the final step, sending final paper work and invoice!
Step Five: Receive invoice, set up payment installments, and wait!
After demonstrating the tunnel freezer and what to expect, next we are going to look at how to place the order of the tunnel freezer, payment steps, and know how long it will take to receive the tunnel freezer unit that you have inquired to use in your business.
As a tunnel freezer can be a large investment (one that will pay off in a big way) placing the order includes an understanding of basic guidelines. We ask you to work together with us to ensure that we can install the freezer in your facility, so again we ask you to provide us with as much information as possible in regards to the location in which you want the tunnel freezer to be installed in( facility illustrations, blue prints, average temperature of the environment the tunnel freezer will be used in, working hours, and more). This will help us finalize the order and ensure you receive a tunnel freezer that will work in your facility.
Next, we will look at costs of a tunnel freezer. Depending on the machine the costs and final payment may change, but in most situation you can expect an average payment scheme of 3 separate payments. Again, your payment scheme may be different depending on the type of tunnel freezer model you order for your business, but in most cases the 3 phases include the following payment steps:
1. First payment will be made to place the order and start manufacturing of the tunnel freezer.
2. Second payment is made roughly 30 days after the first payment is made with a full update on tunnel freezer model and an official manufacturing finishing date. Now, this step changes depending on not only the model that is ordered.
3. Third payment is usually made when the tunnel freezer is finalized and the end user checks the final product prior to shipping.
For more details please contact us directly and we can figure out what costs and payment schemes you can expect in your tunnel freezer order. Now, let's talk about the most important part of the tunnel freezer ordering process, leading time.
Manufacturing of a tunnel freezer is not an immediate process. After the official order is made please expect 3 to 6 months to manufacture your custom made tunnel freezer. Depending on the model this may change. To see how long it would take to manufacturer a tunnel freezer contacting us directly is the fastest way to confirm on the manufacturing time frame.
For most cases you will not have to wait 6 months, but again this entirely depends on your business needs and the tunnel freezer that needs to be made to meet those needs.
Now that the order is placed and the tunnel freezer is getting ready to be used in your facility, here are some tips on what to do next after you make the tunnel freezer order.
Tunnel Freezer and what happens after the order is placed.
After going through the ordering process and finalizing the purchase of the tunnel freezer, here are some tips to prepare for the tunnel freezer arrival.
1. Make sure the area you plan to use the tunnel freezer is prepared and keep us updated on any potential changes in the area. Changes in the area may cause changes in the way the tunnel freezer is prepared to be installed in your facility
2. Connect us with your local and trusted electrical and refrigeration companies(if any) you are currently using for your freezers. We also recommend the team that worked on the specific area the tunnel freezer will be installed in as there may be some room modifications we may request while installing the tunnel freezer.
3. Make sure you have other sections of your food production prepared.
4. We will be sending engineers to your facility for the tunnel freezer installation, please ensure that the main team that will be using the tunnel freezer are available as the engineers will train your team on how the tunnel freezer works, how to use it and how to conduct regular check ups to make sure the tunnel freezer is running 100% all the time.
Of course, these are just some of the tips we suggest you prepare to make the installation process as smooth as possible for you, your team, and everyone involved in the process.
If you are in the market for a tunnel freezer and need the best freezing quality in the market, look no further than Flash Freeze! We only provide the best tunnel freezers, blast freezers, and blast chillers in the market with every a wide selection of specialized flash freezers for business professionals like yourself that need high quality freezer for your product to make sure quality freshness is maintained throughout the freezing process.
Please do feel free to contact us today to get your specialized tunnel freezer for your business. You can contact us via our contact page or feel free to contact us directly via [email protected]. If you need to know more about our tunnel freezers, please look at our Artlock tunnel freezer page and our SW ultra low temperature tunnel freezer to find the best tunnel flash freezer line for your business.